Does avoidance cause procrastination or vice versa? Sprinkle in some intimidation, uncertainty, and apprehension and something can take years to be accomplished. Those and a few other things are factors in why it has taken me until now to make bagels. The process alone kept me from tackling them. However the time came to finally make some thanks to Bread Bakers. I decided to go for a southern twist and make Cornmeal Bagels.
New York bagels are the benchmark. Unfortunately I've never had one. That's right, in all my trips to New York City I've managed to come and go without experiencing a true New York bagel. So I figured if I was going to make bagels I might as well go for something unique. Especially after I saw a recipe in my old faithful bread book that caught my attention. The Red Star Centennial Bread Sampler cookbook hasn't let me down yet. Yet I found myself altering the recipe after reading about bagel making on the internet and in the Cook's Illustrated All-Time Best Bread Recipes special collector's edition magazine.
The original recipe called for only all-purpose flour. Then I read how bread flour is more common to be used to give them a chewy texture. I decided to split the difference and use half of each. There is also cornmeal in the mix which gives them a graininess or grittiness. I thought the bread flour may soak up more of the liquid so I was careful to add only enough to make a soft dough.
The rise went well. It doubled nicely and it was time to shape the bagels. I chose the making dough balls and punching a hole in the middle. Only thing is rolling dough into perfect smooth balls is my nemesis. I did the best I could. If only it was as easy as making a loaf like with Walnut Wheat Bread.
Boiling was the next step. I watched the outside of them become dimply and quite strange looking. I thought there was no way these would look even half decent. I kept at it though. Amazingly enough they smoothed out while baking. The final test would come with taking a bite.
How are the cornmeal bagels? Well, they turned out nicely to me. The chewiness is there along with a touch of slightly sweet cornbread. I enjoyed one right after taking photos (with a cream cheese of course). The next morning I started my day with toasting one and again with a big schmear of cream cheese. You definitely need to toast them the next day. I found they were best right after baking which I believe is true for most bagels.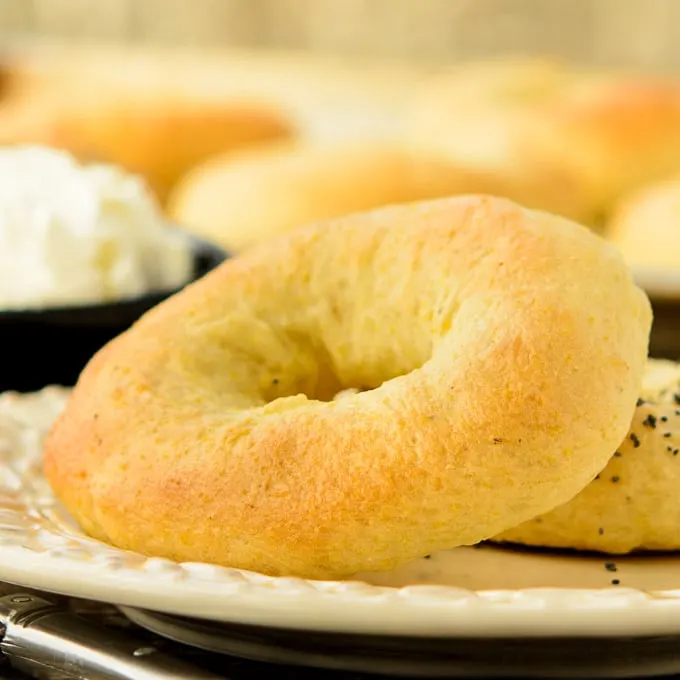 It's a relief to have tackled bagels. I have a bunch more recipes to try thanks to my fellow bread bakers. Scroll down to see which ones they baked. Click on each to read about their experience and I'm sure there are plenty of tips and advice on achieving a wonderful homemade bagel. A big thank you to our host this month, Heather of Hezzi-D's Books and Cooks, for selecting the theme that gave me the reason to stop procrastinating on bagels.
Cornmeal Bagels
Homemade cornmeal bagels are slightly sweet and have the classic chewy texture with a hint of cornbread. It's a southern twist to bagels you will enjoy.
Prep Time
1
hour
30
minutes
Ingredients
1 1/2

cups

bread flour

divided

1 1/2

cups

all-purpose flour

divided

1/2

cup

cornmeal

1

package instant dry yeast

1/4 ounce or 2 1/4 teaspoons

2

tablespoons

granulated sugar

plus more for boiling water

1 1/2

teaspoons

salt

1

cup

water

2

tablespoons

vegetable or canola oil

1

egg

at room temperature

2

to 4 quarts water

1

egg white

optional for topping, slightly beaten

Poppy or sesame seeds

optional for topping
Instructions
Whisk together 1 cup bread flour, cornmeal, yeast, 2 tablespoons sugar, and salt in the bowl of a stand mixer.

Heat water to warm (120° to 130°F) and add it and the oil to flour mixture. Stir to combine. Add egg and stir to combine.

Blend on medium speed using the flat beater for 3 minutes. Switch flat beater to dough hook and turn mixer to the manufacturer's recommended speed when using a dough hook.

Whisk together remaining flours and gradually add enough to make a soft dough and the dough "cleans" the sides of the bowl. Knead with dough hook for 4 minutes.

Hand knead dough a few times until smooth. Place in a greased bowl, turning to grease top. Cover and let rise in a warm place until doubled, about 1 hour.

Heat oven to 375°F. Line rimmed baking sheets with parchment paper.

Bring a large pot of water 3-inches deep to a low boil (or fast simmer) and add 1 tablespoon of sugar for every quart of water.

Punch down dough and divide it into 12 equal pieces.

Shape each piece into a smooth ball. Use a finger to punch a hole in the center. Gently pull dough to make a 1- to 2-inch hole.

Place a few bagels at a time in the boiling water (bottom side up works best). Turn bagels over after 45 seconds. Boil for another 45 seconds then remove bagels from water using a slotted spoon and place them on a wire rack to drain for a few minutes.

Place drained bagels on baking sheets.

If you want to top the bagels with seeds, brush tops with beaten egg white and sprinkle the seeds on top.

Bake bagels until golden brown, about 20 to 25 minutes. Rotate sheets half way through baking for even browning.

Transfer bagels to a wire rack to cool completely.
Recipe Notes
Homemade cornmeal bagels are slightly sweet and have the classic chewy texture with a hint of cornbread. It's a southern twist to bagels you will enjoy.
Recipe adapted from one in the Red Star Centennial Bread Sampler cookbook published in 1981 (no longer in print).
Do you enjoy bagels? How about making them yourself? Take a look at these recipes by bakers from all over the world. There are so many wonderful variations and flavors.
What is Bread Bakers? It's a group of bread loving bakers who get together once a month to bake bread with a common ingredient or theme. You can see all our of lovely bread by following our Bread Bakers Pinterest Board. Links are also updated after each event on the Bread Bakers home page.
How is the monthly theme determined? We take turns hosting each month and choosing the theme/ingredient.
Would you like to join in the fun? If you are a food blogger, send an email with your blog name and url to Stacy at [email protected].