Check out a swatch and a review of one of my favorite products, Clinique Chubby Stick Intense, in Curviest Caramel. It's a gorgeous nude with just the right amount of color.
This post contains links for affiliate shopping which help support this site.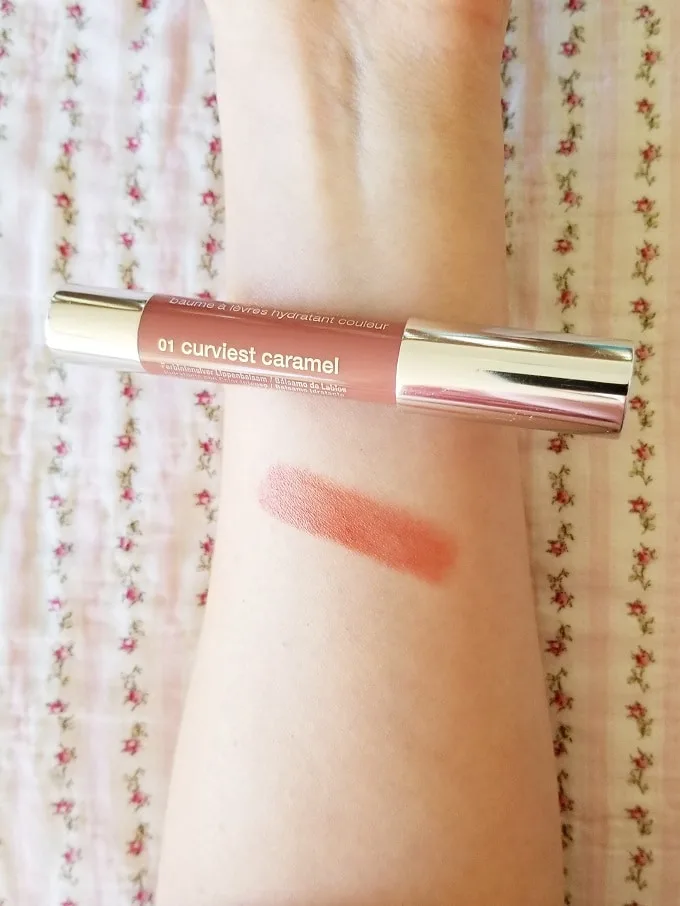 Makeup Review: Clinique Chubby Stick Intense Curviest Caramel
What is this product?
Chubby Stick Intense is a combination lip balm and lip color that's not quite sheer and not totally opaque. You color it on your lips like you're using a crayon. Here's what it looks like on me.
Curviest Caramel is one of the line's nude shades. I've owned at least a dozen Clinique Chubby Sticks over the years in various colors. I change them with the seasons; a berry shade in the fall, a nude shade in the spring. Plus I keep a red shade handy for when I'm feeling sophisticated.
You'll like this product if…
You want some color on your lips, but you don't want a thick traditional lipstick.
Your overall makeup look is on the natural side. (That's me!)
You need a subtle, healthy-looking color.
You WON'T like this product if…
You prefer a strong or contoured makeup look. This is too subtle for that.
You need a lipstick that won't come off on drinking vessels. This one will.
My favorite thing about this product is…
It's chic without trying too hard. I can wear it to the grocery store or theme park if I want to look put together and it won't overwhelm a casual look. It goes on very smooth and keeps my lips soft. The best part is that there are always new, fun colors to add to your bag! Shop for Clinique Chubby Stick Intense in Curviest Caramel here.
Check out my other beauty tips, like how to use chamomile tea on your hair, or how to pose for a celebrity photo!