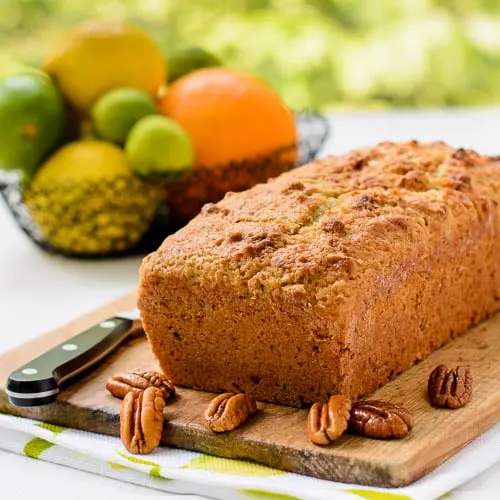 Exiting onto the turnpike was always a relief. It meant the long car journey was almost over. We were on the final stretch to our destination. Giant billboards are lined up one after another on both sides of the road. Each one is selling the message of fun in the sun: "Stay Here", "Play Here", "Eat Here", and so on. Then an occasional orange grove appears between the signs. When conditions are just right, you catch a lovely scent of orange drifting through the air. That scent is what I remembered when baking Citrus Pecan Quick Bread.
Our vacations in Orlando were many years ago. It was probably a cross between getting older and seeking new adventures that ended our trips there. Or it could be because my love of wine and visiting California wine country instead. These days I go back to Orlando for a very special event, the Food and Wine Conference. It is the ultimate combination of food, wine, foodies, blogging, learning, and fun. I'm a proud organizer and speaker too. I'm speaking in two sessions; one is about WordPress with fellow panelist Judi Knight and the other is about beef cutting, cooking, and photography with The Beef Checkoff (I'll be the photographer on that panel).
What ties this bread, the conference, and summer together? The theme for July Twelve Loaves is Summer Fun. I'll be having fun at the conference with Lora, creator of Twelve Loaves. We will be in Orlando where the scent of citrus greets road travelers as they are nearing the city. I could not think of a better bread to bake for the theme.
Citrus Pecan Quick Bread is great for breakfast. Slather it with butter, drizzle it with honey, or pair it with a glass of juice and you are starting your day in a mighty tasty way. It has orange, lemon and lime juice in the mix. That combination is one I've used before with my Refreshing Citrus Cocktail. Pecans give a little extra flavor and a slight crunch. The bread's texture is dense and the loaf feels heavy for its size.
What bread means summer to you? I think of ones with fruit or sourdough because of my trips to Florida, San Francisco, and wine country. Scroll down to see a list of recipes by talented bakers. Join me in visiting each one and see more about their delightful breads.
Citrus Pecan Quick Bread
A recipe for Citrus Pecan Quick Bread made with fresh orange, lemon, and lime juices plus pecans. It is a great breakfast bread for family and friends.
Total Time
1
hour
15
minutes
Ingredients
3/4

cup

granulated sugar

2

teaspoons

grated orange zest

1

teaspoon

grated lemon zest

1/2

teaspoon

grated lime zest

2

cups

all-purpose flour

1/2

teaspoon

baking soda

1/2

teaspoon

salt

1/2

cup

chopped pecans

2/3

cup

orange juice

2

tablespoons

lemon juice

1

tablespoon

lime juice

1

egg

2

tablespoons

vegetable or canola oil
Instructions
Preheat oven to 350 degrees F. Grease and flour an 8- X 4-inch or 9- X 5-inch loaf pan.

Put sugar and zests in a small bowl. Use your fingers to rub zest into sugar (it will begin to look like wet sand).

Whisk together flour, baking soda, and salt in a large bowl. Add the citrus sugar and pecans and whisk to combine.

Whisk together juices, egg, and oil in a medium bowl.

Add wet ingredients to dry ingredients and stir until just combined.

Spoon mixture into prepared pan and spread evenly in the pan.

Bake for 45 to 55 minutes or until a toothpick or cake tester inserted in the center comes out clean.

Cool bread in the pan for 10 minutes on a wire rack. Remove bread from pan and cool completely on a wire rack.
Recipe Notes
A recipe for Citrus Pecan Quick Bread made with fresh orange, lemon, and lime juices plus pecans. It is a great breakfast bread for family and friends.
Don't let summer go by without baking bread! Check out these wonderful recipes for the season:
#TwelveLoaves July: Summer Fun. The month of June was filled with lovely cherries! We have chosen Summer Fun as our theme for July. Let's share flat breads, rolls, buns, grilled breads – whatever sweet or savory version you'd like and whatever you feel reflects summer flavors! Whatever you bake, (yeasted, quick bread, crackers, muffins, braids, flatbreads, etc) have fun and let's have a delicious month of bread for summer fun! Let's get baking!
Do you want to add your bread to the collection with the linky tool this month? Here is what you need to do:
When you post your Twelve Loaves bread on your blog, make sure that you mention the Twelve Loaves challenge in your blog post. This helps us to get more members as well as share everyone's posts. Please make sure your bread is inspired by the theme.
Please link your post to the linky tool at the bottom of my blog. It must be bread baked to the Twelve Loaves theme.
Have your Twelve Loaves bread that you baked this July, 2014, and posted on your blog by July 31, 2014.
Twelve Loaves is a monthly bread baking party created by Lora from Cake Duchess and runs smoothly with the help of our friends. Thank you to Stacy from Food Lust People Love for hosting this month's event!