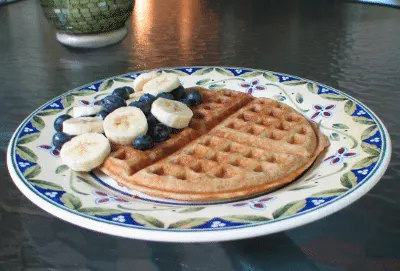 Weekend mornings are even more special with waffles. My parents made waffles occasionally on Sunday morning. My mom would mix the batter and my dad would cook them on the waffle iron. It was one of those big waffle irons that made 4 good-sized square waffles. The waffle iron was in the center of the table and we would sit and talk while enjoying coffee and smelling the waffles cook. Such great memories on those times when I was growing up.
A waffle iron has always been an essential item in my kitchen. Even though I do not use mine too often, I do not know what I would do without it. When I am craving waffles, there is no better than homemade. I will put on a good pot of coffee and start mixing the batter. My coffee at home is much better than what is served at most waffle places. Plus real butter and good syrup make all the difference.
What could be better than a regular waffle? A cinnamon pecan waffle. Oh yes. A little spice and a little crunch from the pecans. Delish! My recipe is adapted from Martha Stewart Buttermilk Waffles. To add whole grain goodness, I used some whole wheat flour. The amount of buttermilk was increased to compensate for the difference in how whole wheat flour absorbs liquids. Cinnamon and pecans were added too. The amount of pecans you use can be from ½ to ¾ cup depending on how much pecans you prefer. You could also change-up or add to the spices…like pumpkin pie spice, nutmeg, etc.
Leftover waffles can be frozen. Wrap them tightly with plastic wrap or put in a freezer zip-top plastic bag and freeze. Put parchment or wax paper between waffles if not storing individually. Take them out of the freezer to defrost either the night before or very early in the morning. The waffles can be re-heated in a toaster or toaster oven for a few minutes.
[print_this]
Cinnamon Pecan Waffles
1½ cups all-purpose flour (spooned and leveled)
1/2 cup whole wheat flour (spooned and leveled)
2 tablespoons sugar
2 teaspoons baking powder
1 teaspoon baking soda
1 scant teaspoon cinnamon
½ teaspoon salt
2 cups plus 1 tablespoon buttermilk
½ cup (1 stick) unsalted butter, melted
2 large eggs
½ to ¾ cup lightly toasted and chopped pecans
Oil or non-stick spray for waffle iron
For best results have eggs and buttermilk at room temperature. In a large bowl, whisk together both flours, sugar, baking powder, baking soda, cinnamon, and salt. In a medium bowl, whisk together buttermilk, melted butter, and eggs. Add buttermilk mixture to flour mixture and stir just to combine. (It is okay for there to be some lumps). Stir in the pecans. Let batter sit (do not stir) for at least 5 minutes while heating up the waffle iron. Once the waffle iron is heated, brush with oil or spray with non-stick spray. Ladle or pour batter onto waffle iron leaving about a ½ inch space on all sides. Close waffle iron and cook until waffles are brown and crisp, about 3 to 5 minutes. Waffles can be kept warm in the oven at the lowest heat setting or on warm setting. This recipe made five 6½-inch round waffles.
[/print_this]