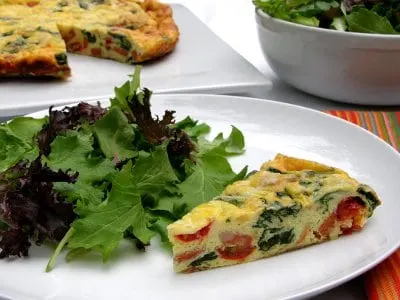 Happy Cinco de Mayo! The Holiday Recipe Club is celebrating with sharing recipes featuring dulce de leche, tomatoes, and/or chorizo. Since I recently made caramel sauce I wanted to do something different. I have been having a bit of an egg craving lately. It started with this incredible fried egg sandwich I had at a restaurant. After that I made both fried and scrambled egg sandwiches for lunch. The craving was not satisfied until I made a frittata. Thanks to Erin for giving me the inspiration for its ingredients because of this blog hop.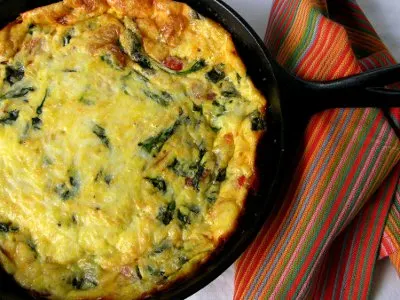 Chorizo is the highlight of the dish. Oh how I love sausage – it is the German side in me. Tomatoes, onions, fresh spinach and cheese go wonderfully along with the chorizo and eggs. I chose Monterey Jack cheese because it seemed like the right one to me. You can substitute the cheese or any of the the ingredients to your preference. Frittata is a sort of a clean out the fridge type of dish. Pretty much anything can go in one. I did the same by adapting mine from this recipe on the Kraft Foods website.
How are you celebrating Cinco de Mayo? Do you cook at home or go out to your favorite Mexican restaurant? I have done both and it depends on what is happening each time. It is always a fun and festive occasion. May your celebration be a great one – ¡Olé!
Are you a food blogger? If you would like to participate in the next Holiday Recipe Club blog hop, go to the HRC website for more information.
Please take the time to visit the other posts with wonderful recipes by Holiday Recipe Club bloggers. Just click on the links below. (If you are reading this in an email or RSS reader you will need to go to the post on my site to see the links to the other blogs).
Subscribe to Magnolia Days by Email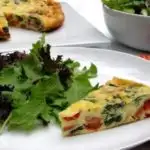 Chorizo, Tomato, and Spinach Frittata
A baked egg dish made with chorizo sausage, grape tomatoes, and fresh spinach.
Ingredients
3 1/2

ounces

chorizo sausage

1/4

cup

onion

chopped

1

tablespoon

olive oil

5

ounces

fresh spinach

1

cup

grape tomatoes

sliced in half

1

cup

shredded monterey jack cheese

divided

8

eggs

1/4

cup

heavy cream

half-and-half, or milk

Salt and pepper
Instructions
Pre-heat the oven to 375 degrees F. Remove casings from chorizo and slice into 1/4-inch rounds. Cut the rounds in half.

In a medium bowl, whisk together the eggs and cream. Season the eggs with salt and pepper, add 1/2 cup shredded cheese, and whisk or stir to combine.

In a large ovenproof skillet heat the oil over medium-high heat. Add the chorizo and onions and cook until the onions are soft and translucent. Add the spinach to the skillet and cook until the spinach has wilted, stirring occasionally. Add the tomatoes to the skillet and cook for 1 to 2 minutes. Add the eggs to the skillet and stir to combine. Sprinkle top with remaining 1/2 cup shredded cheese. Cook for 2 minutes and then transfer pan to the oven. Bake for 20 minutes or until the eggs have set.

Cool in the pan for 10 minutes then transfer frittata to a serving platter. Slice and enjoy. Leftovers can be refrigerated and served cold or re-heated.
Recipe Notes
A baked egg dish made with chorizo sausage, grape tomatoes, and fresh spinach.