It was pretty loud in the pantry. Vanilla and chocolate were going at it. They seem to have a rivalry over how often one or the other gets top billing. Those two divas need attention. The good news is how they put the rivalry aside and are a great team when used together. It is a tough job to keep things even between the two. One cannot have either sulking from neglect. So it was time to make chocolate pudding since vanilla recently had a chance to shine in that category.
Ingredients become more than a part of a recipe. Certain ones ignite emotional responses. Emotions can ignite the desire for some. It is an on-going saga of the way people and food are connected. Chocolate is a comfort to many. Combine the flavor with the creaminess of pudding and you have a simple dessert that may spark a smile. This I know because my husband was smiling big when it was ready to eat.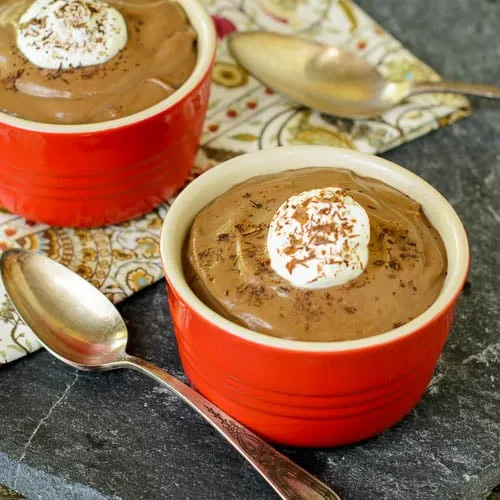 Why did I make chocolate pudding? Besides quieting down the imaginary yelling going on in the pantry? It's because I have another dessert recipe I'll be sharing soon. One component of that dessert is chocolate pudding made from a mix. Oh no, that will not do. Homemade is much better. While I've made vanilla pudding for years, chocolate has been on the to-do list. It gave me the perfect excuse to tackle it.
A few notes on the pudding: It is important to stir constantly while cooking so it does not scorch. It may not look like it will come together at first. The chocolate will melt and before you know it the mixture gets really thick. Then you may think it might be too thick. Whisking in the cream and brandy at the end makes it the right consistency. The toughest part is waiting for it to chill. I won't tell anyone if you happen to be a little impatient and eat it warm.
How often do you eat pudding? Which flavor is your favorite? I'm thinking the next one for me to make is butterscotch. That is, unless I get requests for another flavor. Let me know which one you would like me to feature here on the blog. And, as always, stay tuned…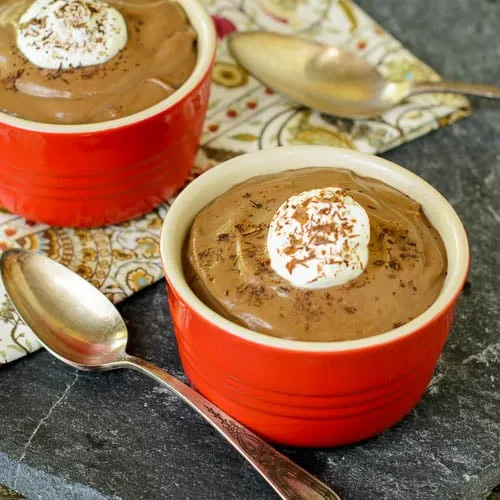 Chocolate Pudding
A recipe for homemade chocolate pudding. It is rich, creamy, old-fashioned cooked pudding made with milk, cream, egg yolks, and semi-sweet chocolate.
Ingredients
2

cups

whole milk

3

egg yolks

3

tablespoons

cake flour

1/4

teaspoon

salt

1/3

cup

granulated sugar

1/2

vanilla bean

split lengthwise

6

ounces

chopped semi-sweet chocolate

1/2

cup

heavy whipping cream

2

teaspoons

brandy
Instructions
Put the milk, yolks, flour, and salt in a blender. Blend until smooth. Pour into a 3-quart saucepan (non-stick recommended).

Add sugar, vanilla bean, and chocolate.

Slowly bring to a boil over medium heat, stirring constantly. Let boil for 30 seconds.

Pour the mixture through a strainer into a large bowl. It will be very thick so you may need to press it through.

Scrap the seeds from the vanilla bean and discard bean shell. Add the seeds, cream, and brandy to the bowl.

Whisk to combine. Place plastic wrap directly on top of the pudding.

Cool to room temperature then chill thoroughly before serving.
Recipe Notes
A recipe for homemade chocolate pudding. It is rich, creamy, old-fashioned cooked pudding made with milk, cream, egg yolks, and semi-sweet chocolate.
Recipe adapted from one featured in a newspaper many years ago. The newspaper name, publication date, or recipe author is not on the clipping I saved.