Spring is here! Yay! Spring is here! And the week leading up to it was certainly one of those weeks. I was really at a major low point. And, of course, right when I thought it couldn't get worse, it did. Yet during the same week there were some wonderful moments too. One of them had to do with these Chocolate Candy Coconut Cookies. It was a compliment that came when I was at my wits end.
So what happened last week? There were more complications to deal with after my mom fell again. All the progress from her last fall was erased. It is one thing leading to another causing more issues to arise. Then I had my own issue happening. I got the worst headache of my life on January 29th and it hasn't ended yet. A CT scan, lumbar puncher, MRI, and angiogram didn't reveal the cause. Seven different medications didn't work to stop it. However it was getting better until last weekend when it got severe again.
Something had to give. I made a decision to let some things go so I could focus on health matters at hand. I called a dear friend on Tuesday morning to tell her I couldn't help with a major event. Doing that broke the damn of tears and I was sobbing so hard I could hardly talk. After our conversation I was completely drained from it all. I was at a terrible low. Then only a few hours later, my web host shuts my website down with no notice. Oh great. Just what I needed. Another something super stressful to deal with.
Then came the compliment. My husband had taken the cookies to work. He called to say they were a big hit. One person said "I don't like coconut but these are the best cookies I've ever put in my mouth". Wow. It made my day. It also changed my mindset at the moment too. A well of positive energy and thoughts erupted. I can do this. I'll get through these issues at hand.
My website came back online on Thursday afternoon. It took switching to a new web host to make it happen. Then I spent Friday through Sunday at WordCamp Atlanta (a website technology conference). I immersed myself in it and enjoyed the escape from regular daily routine. Now I'm refreshed and ready to get back in the swing of things.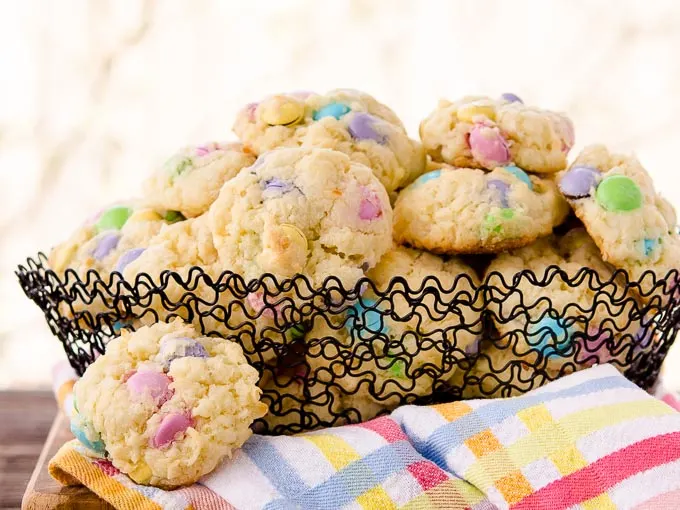 About the Chocolate Candy Coconut Cookies: I made them for this month's Creative Cookie Exchange. The theme is Springtime Cookies. Well, Easter is in spring and I combined two of my favorite Easter sweets: coconut and M&M's (the pastel ones for the holiday). Scroll down to find the list of all the cookies baked for the theme. Also check out Honey Cola Baked Ham and Tarragon Goat Cheese Deviled Eggs for more Easter recipes.
Chocolate Candy Coconut Cookies
Chocolate Candy Coconut Cookies are loaded with sweet coconut and candy coated chocolates. Use seasonal candy colors to make them special.
Prep Time
1
hour
15
minutes
Ingredients
1/3

cup

unsalted butter

at room temperature

3

ounces

cream cheese

at room temperature

3/4

cup

granulated sugar

1

egg yolk

2

teaspoons

orange juice

1

teaspoon

vanilla extract

1/4

teaspoon

almond extract

1 1/4

cups

all-purpose flour

2

teaspoon

baking powder

1/4

teaspoon

salt

3

cups

sweetened coconut flakes

1 1/2

cups

semi-sweet chocolate candies

M&M's brand recommended
Instructions
Cream butter and cream cheese in a large bowl. Add sugar and beat until light and fluffy.

Add egg yolk, orange juice, vanilla, and almond extract. Beat to combine.

Whisk together flour, baking powder, and salt in a medium bowl. Add to creamed mixture and beat until just combined.

Stir in coconut flakes. Cover and chill dough for 1 hour.

Heat oven to 350°F. Line baking sheets with parchment paper or non-stick liner.

Stir chocolate candies into chilled dough. Shape dough into 1 1/4 inch balls.

Place dough balls on baking sheets 2 inches apart.

Bake 12 to 14 minutes or until edges are light brown.

Cool cookies on baking sheet for 2 minutes. Transfer cookies to a wire rack and cool completely.
Recipe Notes
Chocolate Candy Coconut Cookies are loaded with sweet coconut and candy coated chocolates. Use seasonal candy colors to make them special.
Recipe adapted from one in a M&M's recipe booklet I've had in my collection for over 15 years (booklet does not have publish date or copyright information).
We all associate cookies with "The" holidays in December, but spring holidays are a great time for cookies also! Whether you are celebrating Easter, Passover, or something else, we've found some great traditional cookies from around the world for you!
You can also use us as a great resource for cookie recipes. Be sure to check out our Pinterest Board and our monthly posts (you can find all of them here at The Spiced Life). You will be able to find them the first Tuesday after the 15th of each month! Also, if you are looking for inspiration to get in the kitchen and start baking, check out what all of the hosting bloggers have made: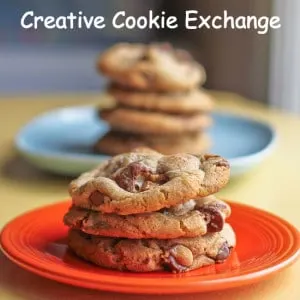 If you are a blogger and want to join in the fun, contact Laura via email (thespicedlife AT gmail DOT com) and she will get you added to our Facebook group where discuss our cookies and share links.