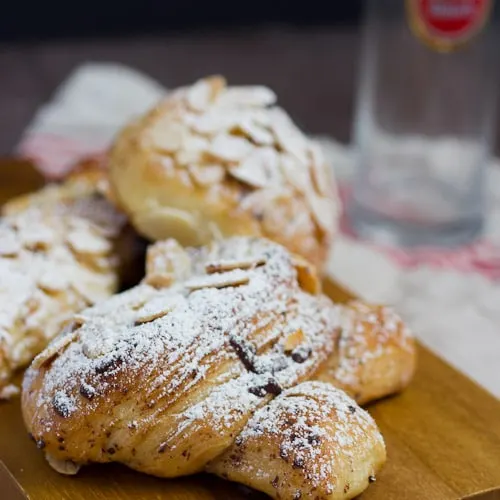 It is nice to take a break every now and then. To escape for a vacation is down-right necessary as far as I'm concerned. It has been a while since I've been away on a trip purely for fun. My mother and I are headed to Germany for a special birthday celebration. Earlier this year she turned 80 and I'll turn 50 next month. We will be visiting family and friends plus eating and drinking everything in sight. I called upon some wonderful friends to help me out while I'm away. The next couple of weeks the posts here will be by those generous and talented fellow bloggers.
Today's post is by Susan of The Girl In the Little Red Kitchen. She is kind, positive, brilliant and one of those people you know you can depend on. She recently took the plunge and made her dreams come true with starting her own online bakery. It is where you can get the tastiest cookies that are fresh baked and delivered to your door. I was one of the lucky ones to be a taste tester and I can tell you they are incredible. So be sure to order some cookies after you read about this Chocolate Almond Twist Bread. Susan has such great recipes on her blog and I can't tell you how many I've saved to make after seeing them. One I know I'd love to start my day with is Avocado Tomato and Feta Toast with Poached Eggs.
Hello Magnolia Days readers! I'm so thrilled to be here today while Renee flies off to Germany for the rest of this month. If you aren't familiar with me, I'm Susan from The Girl In The Little Red Kitchen and I'm pretty sure I've known Renee for practically the entire time I've been blogging. Over at my site I've got a nice mix of healthy seasonal recipes, craft cocktails and decadent desserts, all made from scratch and never with processed ingredients. I also happen to run an online Bake Shop, baking up small-batch cookies delivered right to your door. Enough about me though, I'm really here to tell you a story about my 24 hour visit to Germany and how experimenting in your kitchen can lead to surprisingly delicious results.
Why such a quick trip to Germany? Back in 2012 my Aunt and Uncle were living in Luxembourg City and my husband and I decided to take advantage of a free place to stay (plus visiting them of course!) and flew on over for a week of site seeing and eating our way through a new country. A few days during the trip were unplanned so we decided to take the quick train to Cologne for an overnight stay.
As soon as we arrived I knew this city was for me, pastry lined windows were on site all over the city square and the random lunch spot turned out to be one of Cologne's most well-known pubs for their pork specialties. Plus they have a museum just for chocolate. After the pork and the chocolate, it was finally to get down to real business and dig in with the German pastries. We purchased a bunch for the train ride back to Luxembourg – while most are a blur in my mind, one still stands out – the Nougat Breztal. Instead of a traditional bready German pretzel, this one had layers of flaky pastry, chocolate, sugar and almonds covering it. I'm not sure why it's called nougat but I knew I had to recreate it for myself.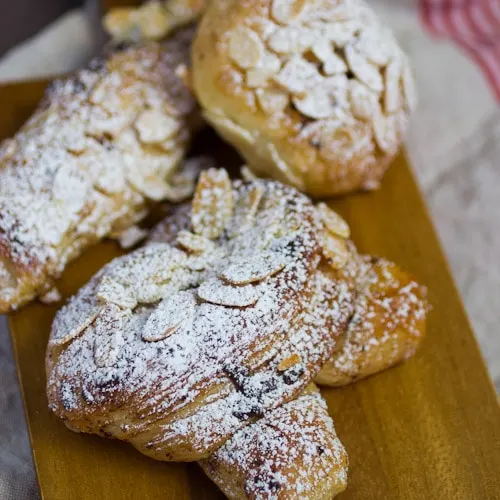 I searched and searched but I couldn't find a recipe online, just that it was similar to a danish dough, so I off I went looking for a danish dough recipe to make at home. Silly me didn't realize I was going to have to essentially make puff pastry. Thanks but no thanks, I don't have time for that. So I began the process of cheater danish, my mistake was kneading the dough in my mixer. Gone were the studs of butter but what came out was an easier version of brioche. I did say some mistakes can turn into delicious ones! I didn't end up with the pretzels I wanted but I'll take this chocolate almond twist bread instead.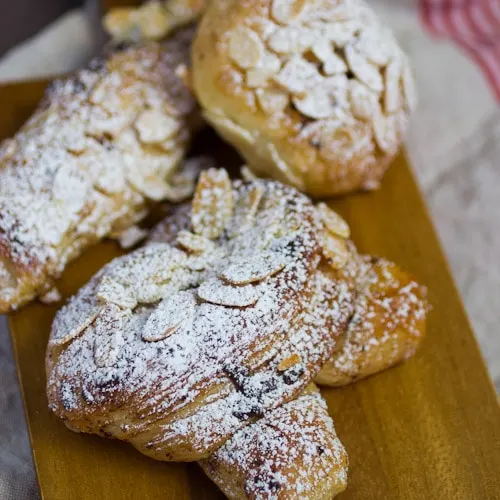 Chocolate Almond Twist Bread
A recipe for Chocolate Almond Twist Bread, a buttery and sweet homemade yeast bread filled with chocolate and covered with almonds and powdered sugar.
Prep Time
4
hours
40
minutes
Ingredients
For the dough:
2 3/4

cups

+ 1/2 cup unbleached all-purpose flour

plus extra for your workspace

2

tablespoons

+ 2 teaspoons sugar

2

teaspoons

instant yeast

1 1/4

teaspoons

salt

1

cup

cold unsalted butter

cut into 1/4 inch pieces

1/2

teaspoon

pure vanilla extract

1/2

cup

milk

2

tablespoons

+ 2 teaspoons water

1

egg
For the filling:
3/4

cup

finely chopped dark chocolate

60-70% cacao

1

teaspoon

cinnamon

2

teaspoons

sugar

pinch of salt
For the topping:
1

large egg + 1 teaspoon water

beaten for egg wash

Slivered blanched almonds

Powdered sugar to top
Instructions
In a large bowl combined the flour, sugar, yeast and salt.

Using a pastry cutter, quickly work the butter into the dry ingredients until it resembles coarse meal. You want some pieces of butter to still be in large chunks, others to be the size of pebbles.

Transfer to your stand mixer fitted with the hook attachment and add the vanilla, milk, water and egg. Mix until the dough starts to come together and form a sticky mass. Add the remaining 1/2 cup of flour, continue to knead and stop when it just starts to pull away from the sides. The dough will never fully form into a ball in your stand mixer.

Scoop the dough out onto a well-floured work surface and knead until it is no longer sticky and you can form into a ball. Cover with plastic wrap and let rest for 10 minutes.

Flour your work surface again and roll the dough out into a 10 inch rectangle, it's okay if it isn't perfect. Fold the dough into thirds, turn and fold again into thirds so that it's a nice package. Wrap tightly in plastic wrap and place in the fridge for 20 minutes to chill. Remove to roll out and repeat the folding steps again. Wrap up to chill for 2 hours or overnight.

Before shaping the bread, in a small bowl mix together the chopped chocolate, cinnamon, sugar and salt and set aside.

Take the dough out of the fridge and cut the dough in thirds, placing the part you are not working with back in the fridge to stay cool. At this point you can shape the dough as you like, you can make rolls, long twists or pretzel shapes. If you are going to make a roll remove a small piece roll it in a floured hand, make an indent and fill it with some of the chocolate mixture then seal up. If you want to make twists or pretzel shapes roll out into a 6-8 inch long, press flat, fill with chocolate, twist around it so not too much falls out and flip to twist in a pretzel or leave as is. You can also tie the twist in a knot. Once you have determined you shape transfer to a parchment lined baking sheet to proof for 1 hour. Also proceed with all remaining dough.

Let the dough proof in a warm but not drafty spot, covered with plastic wrap for one hour or until doubled in size.

Once it's finished rising, heat your oven to 400 degrees. Brush the tops of the bread with egg wash and then generously top with the slivered almonds. Gently brush the top of the almonds with the remaining egg wash.

Bake for 18-20 minutes or until the bread is golden brown. Let cool before serving with a dusting of powdered sugar.

Store any remaining bread in an airtight container.
Recipe Notes
A recipe for Chocolate Almond Twist Bread, a buttery and sweet homemade yeast bread filled with chocolate and covered with almonds and powdered sugar.
Dough adapted very slightly from King Arthur Flour Danish Pastry recipe.