Dirt, water, light, and care are the basics of growing plants and flowers. Dirt is where the plant resides and the foundation of support for the plant. Nutrients are pulled by roots from the soil. Water is as life sustaining to plants as it is people and animals. Light contributes to the processing of those nutrients. Finally there is care that encompasses so many other aspects. Care comes from making the dream of harvesting the bounty from a tiny seed or plant come true. One of the ways I use my herb harvest is to make Chimichurri Skirt Steak. It's so nice to go out and clip what I need from my own garden. Here are some of plants I am growing:
Gardening success is easier for some than others. There are many variables that contribute to the end result. I've learned a few things along the way. Make the dirt as good as possible. This means using high quality potting soil for containers. For in-ground gardens, there is soil amendment you can mix into the ground to improve dirt conditions. Water as recommended for each plant. Make sure your containers have at least one hole in the bottom for excess water to drain out. Put the plant in the amount of light it needs. Full sun will burn some and shade will not be enough for others.
Herbs are some of the easiest plants to grow. Most of them do not have insect or disease issues. In fact, there are some you plant next to vegetables to help keep pests away. They grow rather quickly too. You will have multiple harvests. One of the tastiest sauces you can make with herbs is chimichurri. Slathering the lush green sauce over a skirt steak to marinate is a thing of beauty all on its own.
Skirt steak is a fast steak. What I mean is it does not take long to marinate or grill it. For this recipe, the marinating is done in an hour while it is coming up to room temperature prior to grilling. The time on the grill is only a few minutes on each side (depending on thickness and desired doneness). There are two important keys to tender, juicy skirt steak. One is to let it rest for 10 minutes after grilling and before slicing. The other is to thinly slice it at an angle across the grain.
A few notes on the chimichurri sauce. I adapted it from the one I used with Grilled Herb Shrimp. This recipe makes a larger batch so there is enough for marinating and serving. I also added a serrano pepper because I think peppers go nicely with beef.
Growing my own herbs and vegetables is a dream I made come true. I was beyond excited when I found out American Family Insurance wanted to partner again with Sunday Supper for their Choose Dreams campaign. AmFam is encouraging people to garden and cook from the harvest. Take a look at and follow the Recipes From The Garden Pinterest board for meal inspiration. Also scroll down to find a list and links to more recipes. Special thanks to Jennifer of Peanut Butter and Peppers for hosting this event.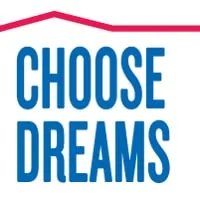 More on American Family Insurance: You can follow them on Facebook, Pinterest, Twitter, YouTube, Google+, LinkedIn, and their website.
Chimichurri Skirt Steak
A recipe for chimichurri skirt steak. The steak is marinated in a homemade fresh herb sauce made with parsley, cilantro, oregano, and seasonings.
Prep Time
1
hour
35
minutes
Total Time
1
hour
45
minutes
Ingredients
For the chimichurri sauce:
1

bunch fresh flat-leaf parsley

1

bunch fresh cilantro

1/4

cup

packed fresh oregano leaves

3

teaspoons

fresh thyme leaves

1 1/2

teaspoon

chopped fresh rosemary leaves

1

serrano pepper

seeded and chopped

3

tablespoons

red wine vinegar

1/2

teaspoon

red pepper flakes

1/2

teaspoon

salt

1/4

teaspoon

fresh ground pepper

1/2

cup

olive oil

plus more if needed
For the steak:
1

to 2 pound skirt steak

Salt and pepper
Instructions
For the chimichurri sauce:
Make sure all the fresh herbs have been rinsed and dried (I use a salad spinner to spin-dry).

Cut the stems from the parsley and cilantro below the leaves (to have mostly only leaves left).

Place the parsley, cilantro, oregano, thyme, rosemary, serrano pepper, vinegar, red pepper flakes, salt, and pepper in the bowl of a food processor fitted with a knife blade.

Pulse a few times to chop the herbs. Scrape down the sides of the bowl. Pulse while drizzling in the olive oil. Do not over-process or it will become a paste.

Transfer the chimichurri sauce to a small bowl. Stir in additional olive oil for desired consistency. Adjust seasoning with salt and pepper to taste.

Serve immediately or cover and refrigerate overnight. Recommended to make a day ahead for flavors to develop.
For the steak:
Spread about 1/3 to 1/2 of the chimichurri sauce on both sides of the steak. Let marinate for 1 hour on the counter while the steak is coming to room temperature.

Heat a grill to medium-high heat (about 450 to 500 degrees F)

Cut steak in half cross-wise with the grain. Scrape off most of the chimichurri and discard (to prevent the taste of burnt herbs).

Sprinkle salt and pepper on both sides of the steak.

Grill the steaks until medium-rare (or your preferred doneness), about 2 to 4 minutes per side, depending on thickness of steak.

Remove steak from the grill and cover loosely with foil. Let rest for 10 minutes.

Thinly slice steak at an angle across the grain.

Arrange steak slices on a platter with some of the chimichurri sauce on top.

Serve immediately with remaining chimichurri on the side.
Recipe Notes
A recipe for chimichurri skirt steak. The steak is marinated in a homemade fresh herb sauce made with parsley, cilantro, oregano, and seasonings.
How about some recipes for your garden harvest? Check out these by Sunday Supper contributors. Visit each of them for more gardening tips too:
Join the #SundaySupper conversation on twitter each Sunday. We tweet throughout the day and share recipes from all over the world. Our weekly chat starts at 7:00 pm ET and you do not want to miss out on the fun. Follow the #SundaySupper hashtag and remember to include it in your tweets to join in the chat. Check out our #SundaySupper Pinterest board for more fabulous recipes and food photos.

Would you like to join the Sunday Supper Movement? Click here: Sunday Supper Movement
Disclosure: This post is sponsored by the American Family Insurance. All opinions are my own.