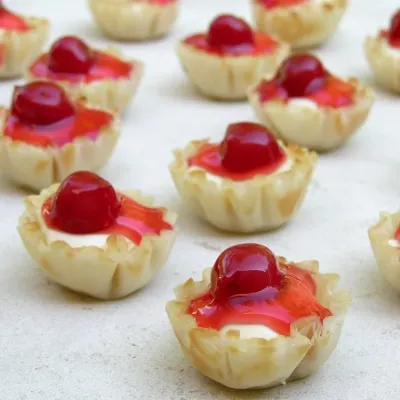 What does the phrase "April showers" mean to you? For me it is two things. One is the old saying "April showers bring May flowers". Each year new spring growth is nourished by rain. It helps to strengthen plants and give what is needed for flowers to bloom. This year Mother Nature seems to be distracted and has skipped over raining my area. It has not rained in over a month. I wonder how all the flowers will do this year without it. I hope rain will come soon and replenish the land. I want to see all the plants and trees flourish this summer.
April showers also means celebrations for future moms and brides. It is the feature for today's #SundaySupper. As soon as Isabel said it was about shower food, my thoughts went to a baby shower I threw for a friend. I remember thinking it would be a small, simple one for friends and family. No big deal…just send out the invites, make some finger foods, do some decorations, make a cake, and celebrate my friend's baby on the way.
The invitations went out. Then more invitations went out. A couple of people asked if they could co-host. My friend's aunt said she would make the cake. I was grateful for the help because it turned into the largest event I have ever had at my house. I even asked for more help from my friend Terry. She came the evening before and helped with the food. She also carved a baby carriage out of a watermelon (so cute! and I wish I had a good photo to share).
There were a little over 60 people at the shower. There were so many gifts we had to bring up an extra table to hold them all. My husband stayed upstairs in the office during the whole event. He said all he heard for hours was "Ohhh!" and "Ahhh!" as the gifts were being opened. It was a great shower if I do say so myself. Thanks to the people who co-hosted and pitched in when I needed it.
The food I had at the shower lead me to discover mini fillo shells. I knew I wanted to make chicken salad because it is one of my friend's favorites. Only thing was I did not want sandwiches. I looked around and found the fillo shells. I used them and endive to hold bites of chicken salad. They were a hit. Some of the other foods I had at the shower were:
Greek olive tapenade and herbed goat cheese dip with crostini
Pinwheels made with ham, turkey, lettuce, and tomato
Mixed nuts and Jordan almonds
Fresh fruit in the watermelon baby carriage
Citrus punch with a sliced fruit ice ring
It was a big event and I would do it all again in a heartbeat. It challenged me to entertain for a crowd. It also lead me to try different things with mini fillo shells. The next event I used them to transform a cherry cream cheese pie into finger food. It is simple, easy to do, and great for a crowd.
What is your favorite shower food? My number one is cake. Second is everything else because it goes into the category of party food and I love party food. It is all good because I only get to enjoy those special treats on certain occasions. Follow the #SundaySupper hashtag on twitter today to discover more recipes for shower food. Join in to share your own photos or recipes. It is a fun celebration and everyone is invited!
Subscribe to Magnolia Days by Email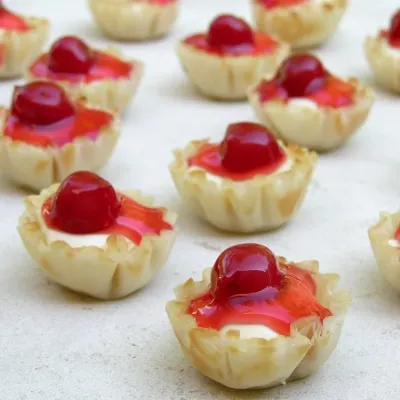 Cherry Cream Cheese Bites
Bite-sized cherry cream cheese pies in little fillo shells. A great finger food dessert for parties and showers.
Servings
15
Makes 75 mini pies
Ingredients
5

packages frozen mini fillo shells

75 shells total

8

ounces

cream cheese

room temperature

14

ounces

sweetened condensed milk

1/3

cup

fresh squeezed lemon juice

strained

1

teaspoon

vanilla

1

can cherry pie filling

21 oz., chilled
Instructions
In a medium bowl, beat cream cheese with a hand mixer until fluffy. Add sweetened condensed milk and beat until smooth. Add lemon juice and vanilla and stir or beat to combine. Transfer mixture to a large zip top plastic bag. Cut one corner from the bottom of the bag to make a small hole. Pipe the mixture into the fillo shells. Refrigerate for 1 to 3 hours. Top each with pie filling. Enjoy!
Recipe Notes
Bite-sized cherry cream cheese pies in little fillo shells. A great finger food dessert for parties and showers.