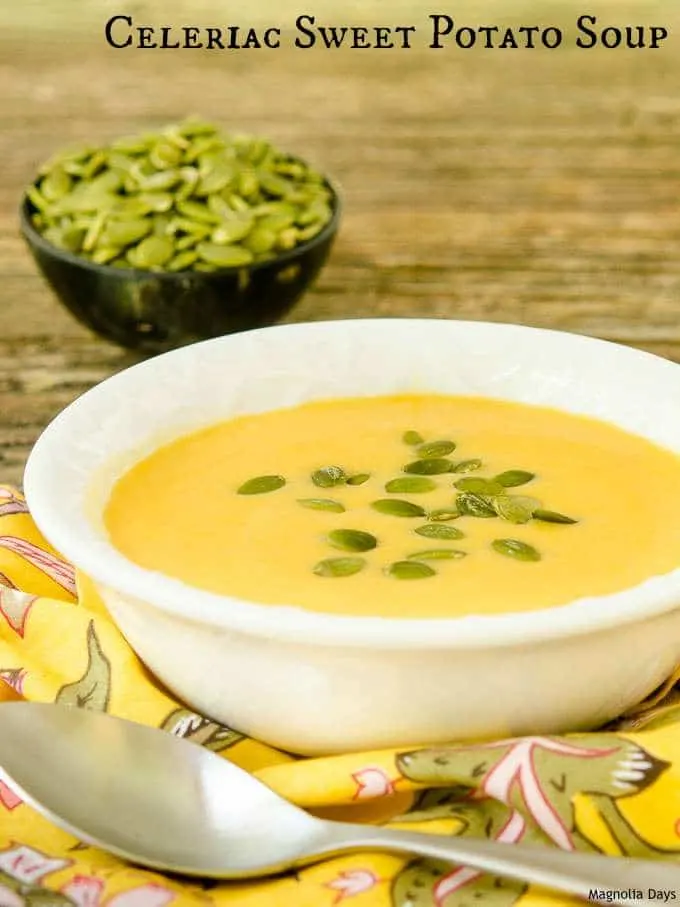 In the blink of an eye it became soup season. All it took was a few cool, crisp mornings. A gentle breeze in the afternoon made it feel as though the outdoors were air conditioned. Now is the time of year when I wonder how much longer until sandals and flip flops are put away. Comfort food like soups and stews really come into the picture. This year my first one is Celeriac Sweet Potato Soup.
What inspired this soup? It was because of a wonderful delivery from Frieda's of a box filled with fall produce. Inside were pomegranates, celeriac (celery root), and three varieties of organic heirloom apples; Cox's Orange Pippin, Ribson Pippin, and Cortland. They are all mighty fine apples indeed. The whole assortment got my creative juices flowing. I devised a plan to incorporate all of them in a recipe. It worked except for pomegranate arils because, in the end, I thought pepitas would be a better garnish.
Sweet potatoes were an extra component. I looked up celeriac in The Flavor Bible
(Amazon affiliate link). The list of flavor matches contained onion, celery, thyme, and root vegetables. That is all I needed to put together the recipe. Besides, I still very much enjoy Spicy Sweet Potato and Corn Soup. One can never have too many sweet potato soup recipes, right?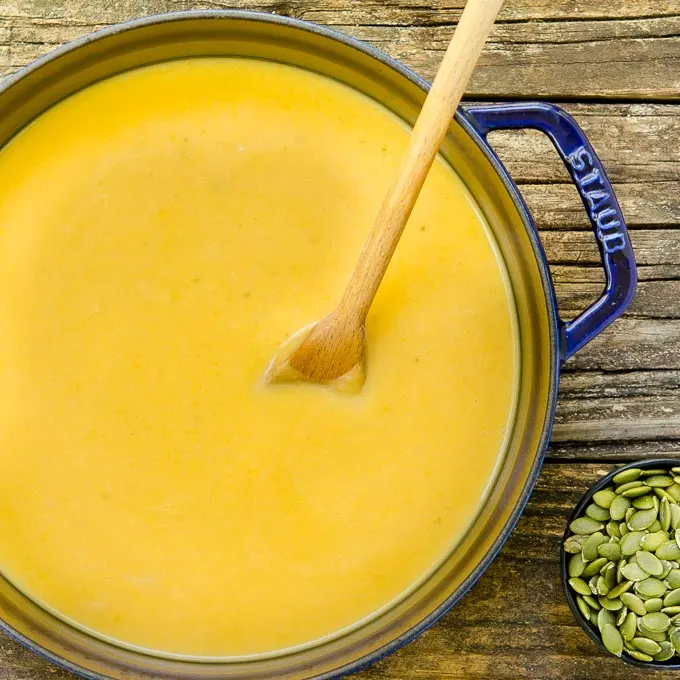 Are you familiar with celeriac? It's a whole lot more popular in Europe than in America. It's not so pretty on the outside however has a lovely white inside. It also will brown very quickly if not rubbed with lemon juice, placed in lemon water, or cooked immediately. It tastes like light and creamy celery with a nutty accent. It's marvelous in soup or in a salad.
How does celeriac sweet potato soup taste? It has mild flavor blend of sweet potato, celeriac, apple, and onion. I recommend serving it with a grilled cheese sandwich or crusty bread. It's a dipping kind soup that's smooth and creamy. Oh, and about the cream. It is totally optional if you want it to be dairy-free.
What is your favorite apple variety? I thought Pink Lady was it until I tasted the heirloom ones from Frieda's. Now I'm debating which one to put at the top of my list. That's the thing about trying new things. They can bump down an old, familiar go-to. A food adventure is quite fun. I wonder what the next stop in the journey will bring.
Celeriac Sweet Potato Soup
Creamy Celeriac Sweet Potato Soup is comforting and full of flavor. It's made with onion, celery root, sweet potatoes, apple, wine, broth, and thyme.
Ingredients
1

tablespoon

olive oil

1/2

sweet onion

diced

1

celery stalk

diced

2

teaspoons

salt

divided

1

clove

garlic

minced

1 1/4

pounds

sweet potato

peeled and cut into 1-inch chunks

1

celeriac

peeled and cut into small pieces

1

apple

peeled, cored, and cut into 1-inch chunks

3

sprigs thyme

tied tightly with kitchen twine

4

cups

vegetable broth

low-sodium recommended

1/2

cup

dry white wine

1/4

teaspoon

ground white pepper

1/2

cup

heavy whipping cream

optional

Pepitas or thyme leaves for garnish
Instructions
Heat olive oil in a soup pot over medium heat. Add onion, celery, and 1/2 teaspoon salt. Cook until softened, stirring occasionally, about 5 minutes. Add garlic, stir, and cook for 1 minute.

Add sweet potato, celeriac, apple, thyme, broth, wine, remaining salt, and pepper.

Bring to a boil then reduce heat to simmer. Cover and cook until sweet potato and celeriac have softened, about 25 minutes. Remove and discard thyme sprigs.

Working in batches, transfer soup to a blender and blend until smooth. Do not fill blender more than 2/3 full as hot liquids can expand when blending.

Return blended soup to pot and stir in heavy cream (if using). Cook over low heat for 5 minutes.

Garnish soup with pepitas or fresh thyme leaves.
Recipe Notes
Creamy Celeriac Sweet Potato Soup is comforting and full of flavor. It's made with onion, celery root, sweet potatoes, apple, wine, broth, and thyme.
Disclosure: I received a box of assorted produce from Frieda's at no charge. I was under no obligation to post a review. All opinions are my own unless otherwise stated or contained within a guest post.