I discovered celeriac in Germany. Have you had it before? It is also called celery root. It is "Sellerie" in German. Interesting because it sounds like celery in English but is not the same thing. It lead to an interesting discussion one day when my mom and I were in Germany this past November. A few days later I had a celeriac salad. It was something I knew I would have to make.
The topic of celery came up because of a recipe. My mom had printed out my post on stuffed celery and took it to show the family. She did it to share my story which included my dad and how special it was when he made it. The discussion lead to the difference of celery and sellerie (celeriac). At that moment in time I had no clue how celeriac looked or tasted. I'm sure if I had seen it in a store I would have passed it right by. It is quite, well, not so pretty:
Then I tasted celeriac for the first time. Family friends in Germany invited us for lunch. I was very much looking forward to it because she is an excellent cook. The meal started with this big German-style salad. Leaf lettuce with cucumber salad, beets, and what I thought was potato salad on top. One bite and I knew it wasn't potato. I asked what it was and my aunt said it was celeriac. It had a nice mild flavor like a combo of celery and parsley. I left Germany with a mission to make it. It took a couple of attempts to get it right.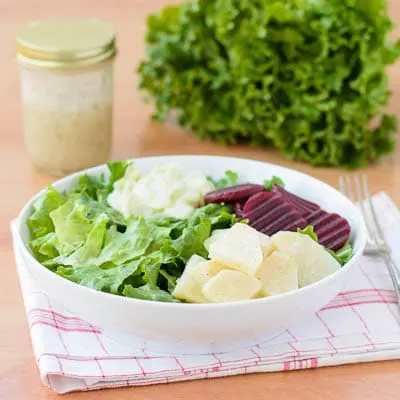 The first time cooking it was a disaster. I thought celeriac was peeled and boiled like potatoes then dressed with a light vinaigrette. I sliced it up and put it in water to boil. The more it cooked the darker and bitter it became. I thought perhaps the dressing would help. I used apple cider vinegar and it made the dark color worse. It looked and tasted awful. Into the garbage disposal it went.
The second time cooking was a success. I had researched different methods. I decided on steaming. I wanted slices to look like potatoes so I steamed halves and then sliced afterwards. Rubbing it with lemon and using lemon juice in the steaming water kept it from turning brown (oxidizing). I used white vinegar and a light oil to make the salad. It worked nicely. Especially because I wanted to make a big salad like I had in Germany. I did not want a conflict of salad dressings.
Have you discovered a new food while traveling? It is one of the best parts as far as I am concerned. Eating the local cuisine is so very inspiring. There are many delights to discover. Go forth and taste!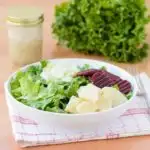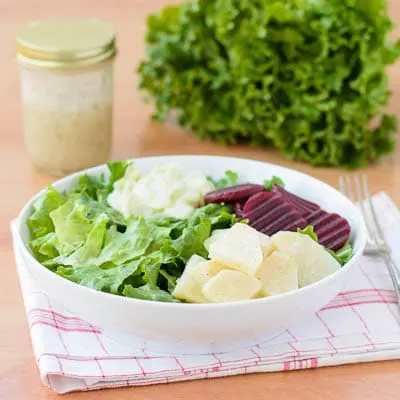 Celeriac Salad
A recipe for celeriac salad (aka celery root salad) made with a simple vinaigrette.
Ingredients
1

celeriac

celery root

1

lemon

2

tablespoons

white vinegar

3

tablespoons

light oil

Salt and pepper
Instructions
Peel the celeriac and cut in half. Cut the lemon in half. Rub all sides of the celeriac with the lemon.

In a pan with a steamer insert, fill water to below the bottom of the steamer. Squeeze the remaining juice from the lemon into the water. Bring the water to a boil and then reduce to a simmer. Place the celeriac in the steamer insert above the water. Cover and steam until tender, about 30 minutes.

Slice the celeriac halves in half (should be about 1 to 1 1/2-inch wide strips). Cut into 1/4-inch slices and place in a bowl. Pour the vinegar into the bowl and stir gently. Pour the oil into the bowl and stir gently. Season with salt and pepper and stir again. Cover and let set on the counter for at least 1 hour. Stir gently occasionally. Serve at room temperature.
Recipe Notes
A recipe for celeriac salad (aka celery root salad) made with a simple vinaigrette.