A knock on the door kicked off another food adventure. The knock was the signal of a package delivery. I eagerly brought the box inside to check out the contents. Inside was an assortment of produce and some of it I've never had before. My contemplation on what to make started in mere moments. It took a day to finally decide on the final concoction. Soon Cauliflower and Sunchoke Soup was bubbling away on the stove. After it was done, it only took a few minutes to blister shishito peppers to serve along with it.
What all was in the box? There were these pretty little purple baby Brussels sprouts and oroblanco (citrus fruit cross between Pummelo and grapefruit). There were also a big bag of shishito peppers, some sunchokes, and a bright orange cauliflower that was like a ball of sunshine.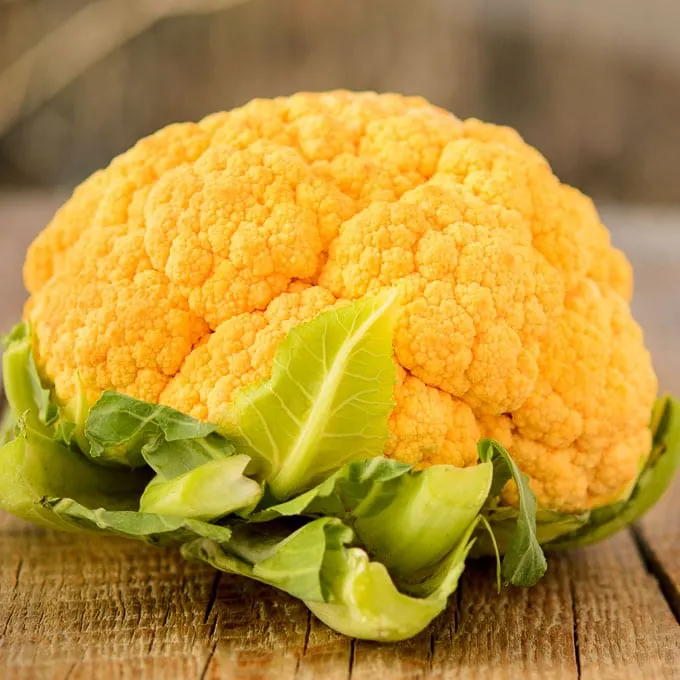 A dreary, rainy, cold day made me crave soup. It was the day after the package arrived and that's why I decided on what to make. I've made cauliflower soup before. This time I wanted to add extra flavor and something special to serve with it. Sunchokes and shishito peppers were the answer.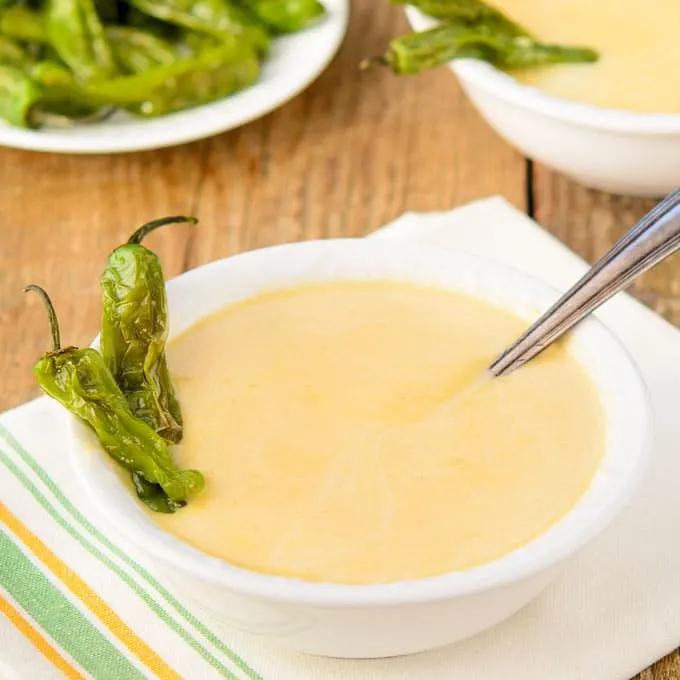 How is the soup? It is creamy and comforting. Cauliflower is the primary flavor with a hint of sunchoke in the background. It's a great dip for blistered shishito peppers. Oh, and those peppers are very mild. The heat in them is about equal to bell peppers.
What was your most recent new food experience? Was it something you had at a restaurant or at home? Mine was, of course, thanks to a lovely delivery from Frieda's. A new year is on the way and I'm looking forward to lots more tasty adventures and discoveries. Who knows what is to come? The only way to find out is to stay tuned…
Cauliflower and Sunchoke Soup
Creamy cauliflower and sunchoke soup served with blistered shishito peppers. It is a healthy, comforting, and flavorful meal for any day of the week.
Total Time
1
hour
5
minutes
Ingredients
2

tablespoons

olive oil

1

sweet onion

sliced

1

celery stalk

thinly sliced

1

carrot

peeled and diced

2

teaspoons

kosher salt

1/2

teaspoon

fresh ground pepper

2

garlic cloves

minced

1

head cauliflower

cut into 1-inch pieces

6

ounces

peeled and diced sunchokes

6

cups

low-sodium vegetable broth

1/2

cup

heavy whipping cream
Instructions
Heat oil in a large Dutch oven or soup pot over medium heat. Add onion, celery, carrot, salt, and pepper. Cook, stirring occasionally, until onion has softened, about 10 minutes.

Add garlic, stir, and cook for 1 minute. Add cauliflower, sunchokes, and vegetable broth. Bring to a boil then reduce heat to simmer. Cover and cook until cauliflower and sunchokes very soft, about 30 minutes.

Puree the soup in a blender until smooth (in batches to not fill the blender too full each time). Return soup to the pot. Stir in cream. Taste and adjust seasoning with salt and pepper.
Recipe Notes
Creamy cauliflower and sunchoke soup served with blistered shishito peppers. It is a healthy, comforting, and flavorful meal for any day of the week.
Blistered Shishito Peppers
Ingredients
1

tablespoon

olive oil

20

shishito peppers

Kosher salt
Instructions
Heat oil in a large skillet over medium-high heat. Add peppers and turn occasionally until they have blistered on all sides, about 3 minutes. The skin of some peppers may pop and splatter so use caution while cooking and turning them.

Remove peppers from the skillet, sprinkle with kosher salt, and serve immediately.
Disclosure: I received a box of assorted produce at no charge from Frieda's and was under no obligation to post a review. All opinions are my on unless otherwise stated or contained within a guest post.