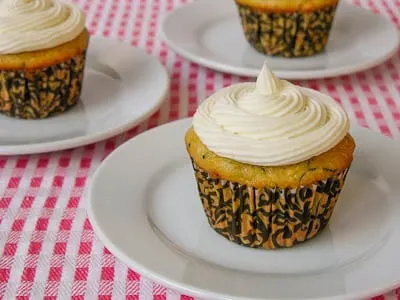 Is your garden producing a lot of zucchini? Or are you finding it plentiful at the market? One of the many wonderful things about summer is the fresh produce. Zucchini grows so well. Some folks might even say too well. I love it and all kinds of squash. I load up on it and then I look for recipes. Luckily, the recipe for carrot zucchini cupcakes came in the mail.
I received a cookbook for review. It is the 150 Best Cupcake Recipes
by Julie Hasson. I was excited when it arrived and I looked through it immediately. It is the first cupcake cookbook in my collection. The book is well organized and has great tips and resources. The recipes are laid out nicely and are easy to read (good font and size). I am particularly pleased with the "Adults Only" chapter. Those cupcakes will be great to make for cocktail parties. The frosting section has my heart too. I do love frosting. Oh and there are plenty of Vegan recipes too.
The carrot zucchini cupcakes came out wonderfully. They were moist and had just the right amount of sweetness. I enjoyed the touch of cinnamon for spice. I topped them with cream cheese frosting. They were so good I actually had one for breakfast. I could hear it calling my name when the coffee was brewing. I was so happy with these cupcakes I cannot wait to try more recipes from the book.
Do you bake cupcakes? If you do or want to try, I recommend getting the 150 Best Cupcake Recipes
cookbook. There are recipes for all occasions and for bakers of all skill levels including beginners. Happy Baking!
Carrot Zucchini Cupcakes
A recipe for homemade moist carrot zucchini cupcakes. The cupcakes can be frosted with cream cheese icing or an icing of your choice. Recipe ©copyright 2012 Julie Hasson from the 150 Best Cupcake Recipes cookbook. Used with permission by Robert Rose, Inc.
Ingredients
1 1/2

cups

all-purpose flour

1 1/2

teaspoons

baking powder

1/2

teaspoon

ground cinnamon

1/4

teaspoon

salt

1

cup

granulated sugar

1/2

cup

unsalted butter

melted and slightly cooled

2

eggs

1

cup

shredded carrot

about 1 large carrot

1

cup

shredded zucchini

about 1 small zucchini

1/3

cup

milk

Frosting

see Frosting suggestions, below
Instructions
Preheat oven to 350 degrees F. Line muffin pan with paper liners.

In a small bowl, whisk together flour, baking powder, cinnamon, and salt.

In a large bowl, whisk together sugar, butter, and eggs until smooth. Add shredded carrot and zucchini, beating until mixed. Alternately stir in flour mixture and milk, making three additions of flour mixture and two of milk, beating until smooth (see Tips).

Scoop batter in prepared pan. Bake in preheated oven for 20 to 25 minutes or until golden brown and tops of cupcakes spring back when lightly touched. Let cool in pan on rack for 10 minutes. Remove from pan and let cool completely on rack. Top cooled cupcakes with frosting.

Frosting suggestions: Cream Cheese Icing, Orange Cream Cheese Icing, or Caramel Frosting. Frosting recipes can be found in the "150 Best Cupcake Recipes" cookbook by Julie Hasson.
Recipe Notes
Tips: It is best to use a spoon or spatula to stir the carrot and zucchini together with the flour mixture rather than a whisk because the vegetables ten to get gummed up in the whisk. Be sure to use nice crisp vegetables for this recipe because they will shred well. Variation: Add 1/3 cup loosley packed sweetened flaked coconut to the batter.
Disclaimer: I received the cookbook free of charge from the publisher. I was under no obligation to give a positive review. All opinions on this site are my own unless otherwise noted or within a guest post.