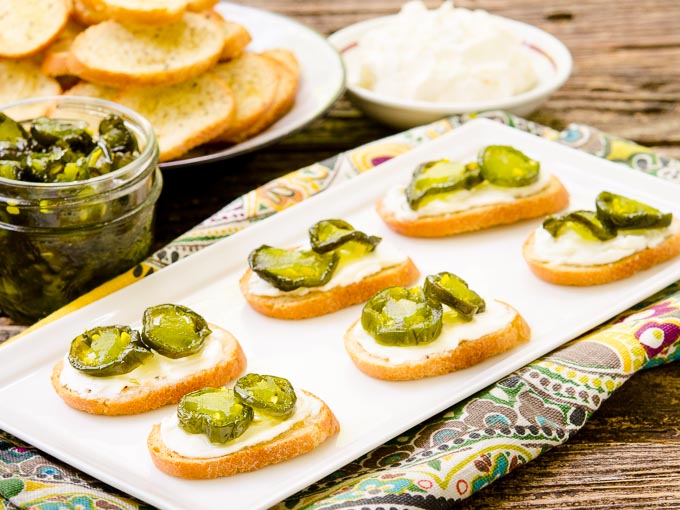 It was a brilliant idea. Past brilliant… pure genius perhaps. There I was looking through a magazine and I spotted a salad with candied jalapeños in it. Below the salad recipe was one for those tasty gems. That was when I got the genius idea to use them for a twist to the old block of cream cheese covered in pepper jelly with crackers thing. Then guess what I found out? I'm way far from being the first one to come up with Candied Jalapeño Cream Cheese Crostini.
All it took was an internet search. I looked up "candied jalapeño cream cheese" and found tons of photos and blog posts about it. Some had bricks of cream cheese topped with the jalapeños other used crackers instead of crostini. There are even dips instead of spreads and toppings. Oh well. It's so good I had to share it anyway.
How do I know it's so good? Because it was a total hit with my friends this past weekend. And I happen to like it a whole bunch. The sweetness of the candied jalapeños hits your first then a fiery heat comes up from behind. Cream cheese helps to cool it down. Homemade crunchy crostini really makes an excellent base for those toppings. All together it is sweet, hot, creamy, and crunchy.
Serving Candied Jalapeño Cream Cheese Crostini has two options. One is to set out the trio of components and let your guests build them. Some folks may want more cream cheese or jalapeños or the opposite. The other option is to go ahead and do the assembly and put them on a platter.
How about a cool drink to go with them? Sure thing! Take a look at Peaches and Cream Martini, Strawberry Whiskey Sour, or Blood Orange Pineapple Rum Cocktail. Need another appetizer? Try this easy Spinach Artichoke Dip.
Candied Jalapeño Cream Cheese Crostini
Candied Jalapeño Cream Cheese Crostini is a fantastic appetizer for your next party. It's crunchy, creamy, hot, sweet, and totally tasty.
Ingredients
For the candied jalapeños:
12

ounce

jar pickled jalapeño slices

3/4

cup

superfine sugar

Grated zest of 1 lime

Juice from 1/2 lime

about 2 teaspoons
For the crostini:
1

baguette

2

tablespoons

olive oil

Sea salt

Fresh ground pepper
For serving:
8

ounces

soft cream cheese
Instructions
For the candied jalapeños:
Drain and discard juice from the jalapeños. Place jalapeños in a small bowl.

Add sugar, lime zest, and lime juice. Stir to combine. Cover and chill for a minimum of 48 hours or up to 1 week. Stir twice a day while chilling.

Note the sugar will eventually melt and turn into liquid while chilling.
For the crostini:
Preheat oven to 375°F.

Cut baguette into 1/4-inch slices. Place slices on baking sheets.

Brush slices with olive oil. Sprinkle with salt and pepper.

Bake until golden brown and crispy, about 10 minutes. Transfer to a wire rack and cool completely.
For serving:
Option 1: Set out candied jalapeños, crostini, and cream cheese and let everyone assemble their own.

Option 2: Pre-assemble by spreading cream cheese on crostini and top with candied jalapeños.
Recipe Notes
Time stated does not include time for chilling jalapeños (48 hours or up to 1 week).
Recipe for candied jalapeños adapted from Southern Living 5 Ingredient Recipes Special Collector's Edition Magazine published in 2015.