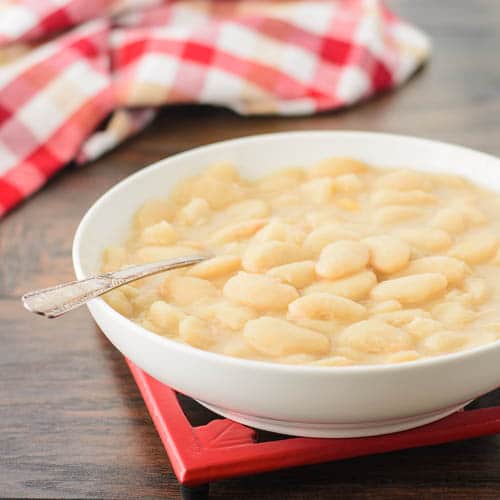 It was a typical family dinner at my in-law's house. A big southern feast filled the table. Two main dishes were not uncommon. The sides were plentiful including creamed corn, green beans, macaroni and cheese, mashed sweet potatoes, and fried okra.
One thing was new to me and it was butter beans. I don't remember ever having it as a kid. One bite was all it took. Since then it is something I've looked forward to my mother-in-law cooking over the years.
There are two types of southern butter beans. One is made with fresh baby or small green lima beans and has a butter sauce. The other is made with large dried beige limas and is slow-simmered for hours. The second creates a creamy-like sauce without adding cream or milk.
It's obvious I'm sharing the recipe for the latter. To be honest, it's all I knew were butter beans until I did some research and discovered the other one. I suppose it all depends on what you relate to the name.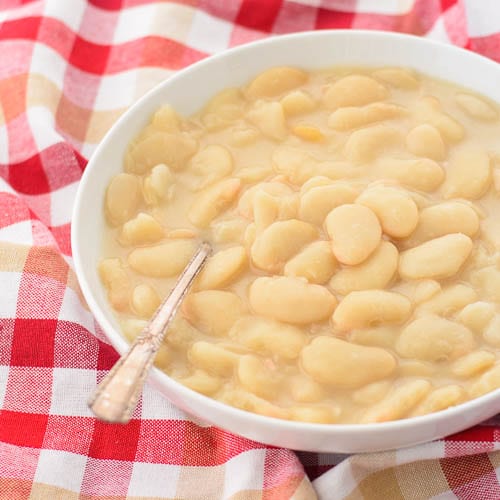 Creaminess comes from the cooking process. Slow-simmering with only enough water to keep the beans covered creates a thick "sauce". If you add too much water it will be thin and not have the right consistency. It means checking them about every 20 minutes and adding a little water if needed. That does take more effort however the end result is worth it.
It's also important not to stir unless necessary. Stirring will break the beans apart and turn a lot of them into mush. The most I do is gently nudge them around with a wooden spoon once or twice.
The recipe came from my mother-in-law. I had a couple of discussions with her to get all the details. She calls what is used to simmer with the beans "streak o' lean." It's also called fatback or salt pork.
I stated salt pork in the ingredients since that is what it is typically labeled as in the grocery store. I buy it sliced however you can buy it whole and cut slices.
Have you cooked a family recipe lately? This was the first time I made butter beans because I always relied on getting them at my mother-in-law's house. It is important to learn directly from the ones who make the dishes so wonderfully. I encourage you to do the same with your family and have a lot of fun in the process.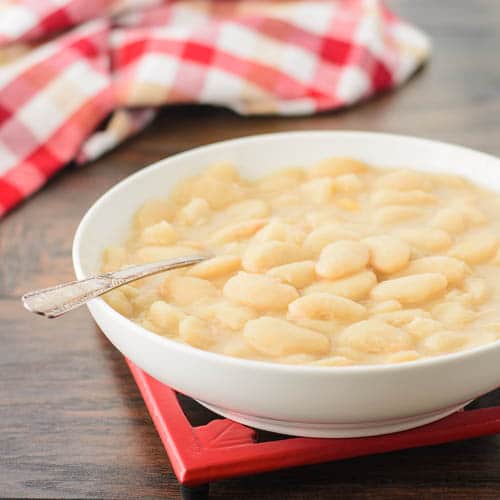 Butter Beans Southern-Style
A recipe for Butter Beans cooked southern-style with salt pork. The beans are slow-simmered and create a creamy-like sauce without adding any cream or milk.
Ingredients
6

ounces

salt pork

6 thick slices

1

pound

large lima beans

1

teaspoon

salt

1/2

teaspoon

fresh ground pepper
Instructions
Rinse and drain beans.

Put salt pork slices in the bottom of a large 7 to 8 quart pot. Pour the beans on top.

Cover the beans with about a half-inch of water.

Bring to a slow boil and reduce the heat to simmer. Do not let get to a full rolling boil.

Cover the pot loosely. Check every 20 to 25 minutes and add more water just to cover the beans.

After 1 to 1 1/2 hours, add 1 teaspoon of salt.

Continue to simmer, adding more water as needed, until beans are soft, about 2 1/2 to 3 hours.

Remove and discard salt pork slices.

Add pepper and gently stir. Taste and adjust seasoning with salt and pepper.
Recipe Notes
Note: Stirring the beans during the cooking process can cause them to break apart. Stir gently and only as needed.