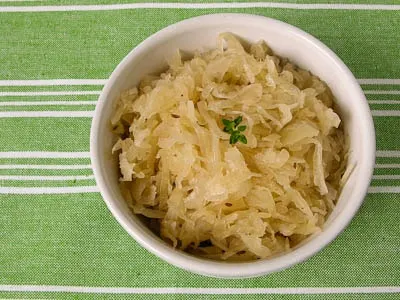 I had a craving for German food. Well, a larger than usual craving. It started because of a trip I recently took with my mom and niece. We went to Helen, GA for an overnight stay. Helen in a tiny little town built to look like an Alpine village in Germany. Yes, it is a tourist town. It is filled with a souvenir-type gift shops. There is not much to do other than hiking, tubing, relaxing, and eating. The one great thing is there are several German restaurants.
I planned to have a couple of German meals. I thought about some type of wurst with sauerkraut for lunch and then rouladen or sauerbraten for dinner. A late, um, second breakfast on the way plus the heat that day made me not hungry for lunch. Instead I had apple strudel for a snack. It was quite a good snack and still German fare. I did have sauerbraten for dinner and so part of my craving was satisfied.
There was still my hankering for wurst and sauerkraut. I was looking through Julia Child's "The Way to Cook
" cookbook and ran across braised sauerkraut. All I have ever "cooked" at home was heating up store-bought. I always wondered why it never tasted near what it does in Germany. Over there the texture seemed different and it had more depth of flavor. I wondered if Julia's recipe would come close and it did. I will never just heat up store-bought again.
I grilled bratwurst while the sauerkraut braised. I also cooked some potatoes using the method in French Potato Salad. Instead of using the dressing for the salad, I added butter, salt, and pepper to the pan to make simple buttered potatoes. The meal that night was wonderful and hit the spot.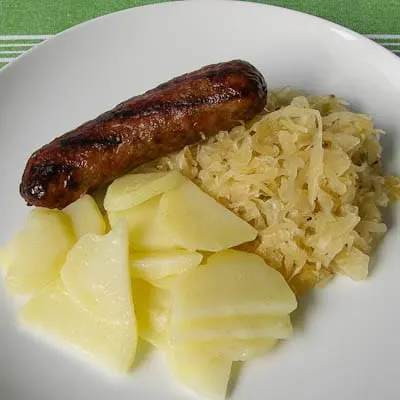 Julia's braised sauerkraut recipe is quite simple. Everything is cooked in one pot. The original recipe calls for dried thyme and I substituted fresh thyme. I prefer using fresh herbs whenever possible. She also suggests soaking the sauerkraut in water to remove some of the sour taste. I completely skipped that step because I want my sauerkraut to be sour.
Thanks to Julia I had a great German meal. Her recipes extend to more than French cuisine. I am enjoying discovering more of them as her 100th birthday celebration continues. I can see she really did enjoy all types of foods and cuisines. What is your favorite non-French recipe from Julia?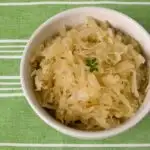 Braised Sauerkraut
Sauerkraut braised with onions, wine, caraway seeds, and fresh thyme. Recipe adapted from one by Julia Child.
Ingredients
2

pounds

sauerkraut

3

cups

thinly sliced onions

1

cup

dry white wine

3

cups

chicken or vegetable broth

1/2

teaspoon

caraway seeds

1

teaspoon

chopped fresh thyme

leaves only

2

bay leaves

Salt

Fresh ground pepper
Instructions
Drain the sauerkraut. Squeeze it by handfuls to remove excess liquid. Fluff up the strands and set aside.

In a heavy 5-quart or larger covered saucepan, add the onions and the wine. Bring to a simmer and cook for 8 to 10 minutes, or until onions are tender.

Add the sauerkraut, broth, caraway seeds, thyme, bay leaves, a little salt and pepper, and stir to combine. Bring the mixture back to a simmer, cover the pan, and simmer over low heat for about 30 minutes, stirring occasionally.

Uncover the pan and boil rapidly until the liquid has reduced to nothing (or almost nothing if you perfer it with some of the liquid and not dry-like). Correct seasoning with additional salt and pepper if needed. Remove and discard the bay leaves. Serve hot.
Recipe Notes
Recipe adapted from Julia Child "The Way To Cook" cookbook.