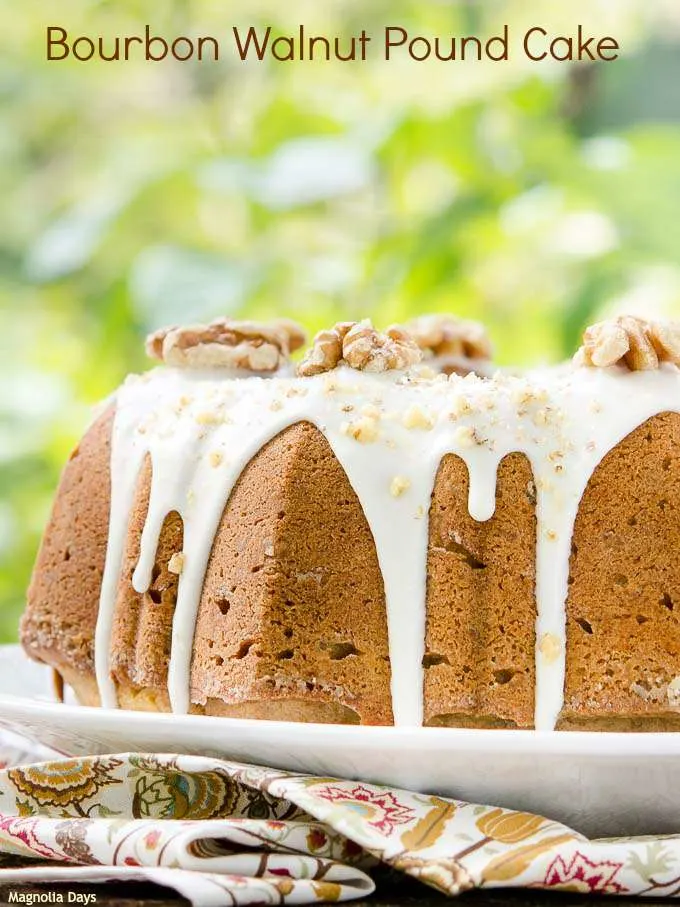 A thought occurred as soon as my fingers touched the bottle. I pulled it out of the cabinet and set it on the counter. It is the usual thing to do when these friends visit. We have wine and cocktails when they arrive. Anyway, I was thinking how much I like the smell and taste of bourbon in baked goods. That thought carried into my decision on baking a Bourbon Walnut Pound Cake.
Another small factor went into the decision. The theme this month for Bundt Bakers is Sprinkles. It was set by our host Terri of Love and Confections. I have a confession: I do not care for sprinkles and never have even as a kid. They are cute, fun, and these days come in all shapes and sizes. Yet I'll pass. Luckily anything sprinkled on or in a cake qualified. Toasted chopped nuts fit the theme.
Okay, I admit I've used sprinkles before. I'll use them again too. They are a lovely garnish for styling cupcakes, cookies, and cakes. It goes into the category of things food bloggers do for photographs. So the sprinkled ones you see in my photos were enjoyed by someone else. I had a plain one.
How is Bourbon Walnut Pound Cake? It is dense and loaded with bourbon soaked walnuts. It's buttery, nutty, and topped with bourbon glaze and a sprinkling of toasted walnuts. This cake is definitely one to bake for anyone who enjoys bourbon. It's also one for the holidays when boozy cakes like rum cake are popular.
Do you like sprinkles? Scroll down to find a list of bundt cakes with a sprinkling of something either in or on them. The recipes are a click away. There is a bunch of stunning cakes to see. Bundts are beautiful anyway and sprinkles can only add to the beauty. Take a look at No-Bake Bourbon Pecan Cookies or Chocolate Pecan Bourbon Cookies for more of my recipes with bourbon.
Bourbon Walnut Pound Cake
Bourbon Walnut Pound Cake is loaded with bourbon soaked walnuts, topped with a bourbon glaze, and sprinkled with toasted walnuts.
Prep Time
1
hour
30
minutes
Total Time
2
hours
30
minutes
Servings
12
to 16 servings
Ingredients
For the cake:
2

cups

finely chopped walnuts

1/2

cup

bourbon

2

cups

unsalted butter

at room temperature

2

cups

granulated sugar

1

teaspoon

vanilla extract

8

eggs

at room temperature

3 1/2

cups

all-purpose flour

1 1/2

teaspoons

baking powder

1/2

teaspoon

salt

1/2

teaspoon

ground cinnamon

1/4

teaspoon

ground nutmeg
For the glaze:
2

cups

confectioners sugar

sifted

3

tablespoons

cream

plus more if needed

1

tablespoon

unsalted butter

melted

2

teaspoons

bourbon

Pinch of salt
For topping:
Toasted walnut halves

2

tablespoons

toasted chopped walnuts
Instructions
For the cake:
Stir together chopped walnuts and bourbon in a small bowl. Allow nuts to soak in bourbon for 1 hour, stirring occasionally.

Preheat oven to 350°F. Lightly grease and flour a 12-cup bundt pan.

Cream butter and sugar in a large bowl until light. Add vanilla and beat to combine.

Beat eggs in a medium bowl until they are thick and light. Add eggs to creamed mixture. Beat on low to combine then on high until mixture is thick and fluffy. Note at first the mixture will look curdled but it is not. Just keep beating and it will smooth out.

Whisk together flour, baking powder, salt, cinnamon, and nutmeg. Add to wet ingredients and beat until just combined. Stir in bourbon-soaked walnuts.

Pour batter into prepared pan. Spread batter so it is higher at the side and against the tube. Place a square of brown parchment paper on the pan to cover the cake.

Bake for 55 to 60 minutes, or until a toothpick or cake tester inserted in the center comes out clean.

Cool cake in pan for 12 to 15 minutes. Remove cake from pan and cool completely on a wire rack. Pour glaze over cake, place walnut halves on top, and sprinkle chopped walnuts on glaze.
For the glaze:
Stir together confectioners sugar, cream, butter, bourbon, and salt. Add more cream, about 1 teaspoon at a time, until desired glaze consistency is reached.
Recipe Notes
Bourbon Walnut Pound Cake is loaded with bourbon soaked walnuts, topped with a bourbon glaze, and sprinkled with toasted walnuts.
Recipe adapted from Nordic Ware Bundt Cookbook published in 2004 (no longer in print).
Are you looking for a festive cake to bake? Here are bundt cake recipes with sprinkles by talented bakers from around the world:
What is Bundt Bakers? It's a group of Bundt loving bakers who get together once a month to bake bundts with a common ingredient or theme. Follow our Bundt Bakers Pinterest board for incredible bundt cake recipes and inspiration. Stacy of Food Lust People Love heads up our group and has a #BundtBakers page where you can find information and links to the recipes for each month.
How is the monthly theme determined? We take turns hosting each month and choosing the theme/ingredient. Links for all of our past events and more information about BundtBakers can be found on our homepage.