The challenge was a tough one. It was to bake bread without using modern or un-hybridized wheat. It meant my standard supply of all-purpose, self-rising, cake, bread, and white whole wheat flours were out. I almost took the easy road and passed on the challenge. Then the proverbial light bulb went off. Quinoa flour was the answer. And that is the reason I baked Blueberry Peach Quinoa Oatmeal Muffins.
Time was another factor. I needed a fast recipe. I didn't have the luxury of several attempts with attempting yeast risen bread. Those ancient grains do not have the gluten power of modern flour. I envisioned hours being spent to end up with bricks. Quick bread is much easier since it uses other leavening agents.
Which ancient grain flour to use? That was the question running through my mind. Then I remembered the Maple Walnut Quinoa Quick Bread I baked about a year ago. Ah yes, quinoa flour. So there was the answer. I went directly to the same cookbook I used then for inspiration. Muffins, oatmeal, and fruit jumped out of the page and into my mind. How convenient I had everything on hand too.
How are Blueberry Peach Quinoa Oatmeal Muffins? They are dense and moist. Quinoa flour is similar to whole wheat flour in terms of texture in the finished bread. The muffins are lightly sweetened with honey. One other effect from honey is browner edges. Next time I'll bake these in cupcake liners. Dried blueberries and peaches also add a touch of sweetness. I recommend serving them with lots of butter and drizzled with honey.
One note about quinoa flour. It has an earthy or slightly bitter flavor. I've read you can reduce the bitterness by toasting it. Only thing is it is expensive. A 22 ounce bag is almost $13. Taking a chance of over-toasting it and having a burned flavor is not exactly my idea of a good thing. Anyway, just be aware of a different flavor if you are not used to quinoa flour. Or use whole wheat flour instead.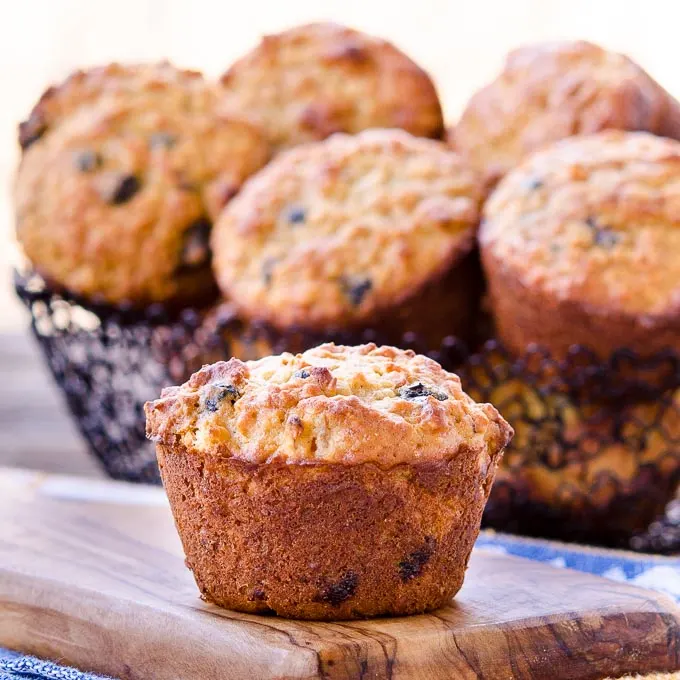 Have you baked with ancient grains? Are you interested in more homemade bread with them? Scroll down to find a list of recipes. Bread Bakers from around the world have come together to meet the challenge of baking with ancient grains.
Blueberry Peach Quinoa Oatmeal Muffins
Blueberry Peach Quinoa Oatmeal Muffins are dense, moist, and loaded with blueberries and peaches. A great gluten-free breakfast or snack.
Ingredients
1

cup

quinoa flour

see note

2

teaspoons

baking powder

3/4

teaspoon

salt

1/2

teaspoon

baking soda

1/2

teaspoon

ground cinnamon

1 1/3

cups

quick-cooking oats

2

large eggs

at room temperature

1

cup

plain Greek yogurt

1/2

cup

honey

1/4

cup

unsalted butter

melted

1

teaspoon

vanilla extract

1/2

cup

diced dried peaches

1/2

cup

dried blueberries
Instructions
Preheat oven to 400°F. Grease a 12-cup muffin pan or line cups with cupcake liners. These muffins will be dark on the sides due to the honey. Use cupcake liners if you want lighter colored sides.

Whisk together flour, baking powder, salt, baking soda, and cinnamon in a large bowl. Add oats and whisk to combine.

Whisk together eggs, yogurt, honey, butter, and vanilla extract in a medium bowl.

Add liquid ingredient to dry ingredients. Stir until just combined and dry ingredients are moistened.

Stir in peaches and blueberries.

Divide batter equally among muffin cups.

Bake for 18 to 20 minutes, or until tops are lightly browned and a toothpick or cake tester inserted in the center comes out clean.

Cool muffins in pan for 2 minutes. Remove muffins from pan and cool on a wire rack.
Recipe Notes
You can substitute whole wheat flour for quinoa flour. If you are not familiar with the flavor of quinoa flour, be aware it can have an earthy, slightly bitter taste in baked goods. However, it is a great gluten-free baking option.
Recipe adapted from one in the 500 Best Quinoa Recipes
cookbook (Amazon affiliate link).
This month's Bread Bakers theme is Ancient Grains hosted by Robin at A Shaggy Dough Story. Ancient grains are generally accepted to mean grains that have remained largely unchanged/un-hybridized over the last several hundred years, which means no modern wheat. Here's what our creative bakers came up with:
What is Bread Bakers? It's a group of bread loving bakers who get together once a month to bake bread with a common ingredient or theme. You can see all our of lovely bread by following our Bread Bakers Pinterest Board. Links are also updated after each event on the Bread Bakers home page.
How is the monthly theme determined? We take turns hosting each month and choosing the theme/ingredient.
Would you like to join in the fun? If you are a food blogger, send an email with your blog name and url to Stacy at [email protected].