It started with swizzle sticks. Actually, it was when a package arrived full of goodies. The box cutter sliced through the packaging to reveal the assortment inside. Excitement set in as each item is lifted out of the box. New inspiration was found and old memories were ignited. Thoughts went back to a vacation in Las Vegas and a night of "attitude adjuster" beverages. They certainly did have an attitude adjusting quality with multiple rums, a little fruit juice, and sugar cane stirrers. To celebrate those good times, I decided to mix up a drink and created a Blood Orange Pineapple Rum Cocktail.
This cocktail has one rum and multiple fruit juices. White rum is stirred with blood orange, pineapple, and lime juices to make a pretty and fruity beverage. The color is incredible. It has a reddish hue to begin with and then slowly turns purple. The taste is the same no matter the color. Serve with sugar cane swizzle sticks for a fun stirrer and garnish. You can chew on the sticks for added sweetness (just remember not to eat/swallow the fibrous stalks).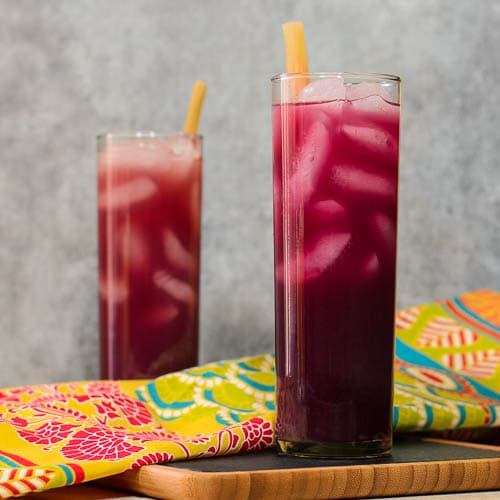 It is the season for blood oranges. It will be over soon so get as many as you can while they are available. Be careful when you slice or squeeze them because the juice will stain. I know because I made a big mess while making the drink. Yet another example of why I could never cook on television. How those chefs keep everything neat and tidy during the shows is beyond me.
This drink is great for Valentine's Day or game day. It's full of vitamin C too. If you prefer tequila over rum then check out Kiss of Light Margarita which also is made with blood orange juice.
Blood Orange Pineapple Rum Cocktail
3 ounces white rum
6 ounces pineapple juice
4 ounces blood orange juice
2 teaspoons lime juice
Stir together all ingredients and pour into two glasses filled with ice.
https://magnoliadays.com/blood-orange-pineapple-rum-cocktail/
Copyright Magnolia Days - http://magnoliadays.com/
Disclosure: I received a variety pack from Frieda's at no charge. I was under no obligation to post a review. All opinions are my own unless otherwise stated or contained within a guest post.