Summer is fast approaching an end. Soon fresh berries at the farmers market will be replaced with winter squash. It's hard to imagine because the sunshine and heat finally kicked in last week. This summer has been so cool and wet. After weeks of below normal conditions, temperatures were back in range of being in the 90's. The warmth gave me an urge to drink in every last bit of summer. Capturing the essence of it caused the creation of a berry orange martini.
Blueberries and raspberries had to be the base. The juice from them combines to make a lovely deep magenta color. Sweetness from the blueberries is balanced with tartness from raspberries. It needed a little extra something though. Citrus came to mind immediately. While lemon seems to be the popular choice, I got inspiration from my orange blueberry yogurt bundt cake. I couldn't capture summer without a fresh herb involved. Thyme was the answer. A hint of it in the background rounded out the flavors. Shaken with vodka made it a martini to sip on the porch while enjoying the season.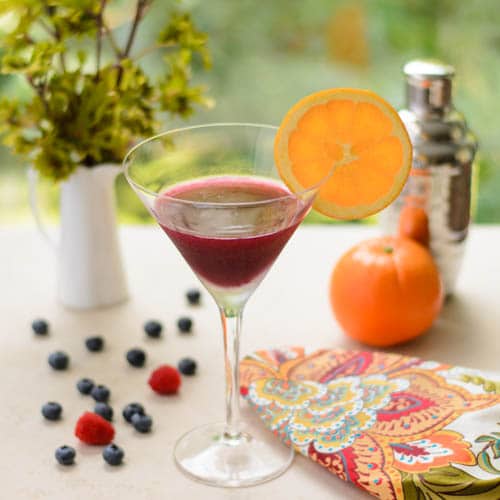 A gorgeous martini deserves a beautiful glass. The folks at Distinguished Imports spotted my Orange Crush Cocktail and were kind enough to send to me a set of hand blown crystal glasses. They put all my other martini glasses to shame. The crystal shimmers in the light. My favorite part is the way it looks right above the stem. It's almost like the drink is floating on air. You can see it really good in the photo at the top of this post. You can get these glasses and more from the Distinguished Imports website.
Which berries represent summer to you? Blueberries are my number one choice. It's a good thing the syrup recipe below makes enough for several martinis. I see a lot of summer sipping in the coming weeks…
For the berry orange syrup:

1 pint blueberries
1/2 pint raspberries
4 to 5 fresh thyme sprigs
Juice from 1 orange
For the martini:

1 ounce berry orange syrup
2 ounces vodka
1/2 ounce triple sec
1/2 ounce simple syrup
For the berry syrup:
Bring the blueberries, raspberries, thyme, and orange juice to a boil in a small saucepan. Reduce heat to medium-low.
Cook, stirring occasionally, until the raspberries soften and blueberries begin to burst, about 3 minutes.
Pour through a fine mesh sieve or cheesecloth-lined strainer and press the berries to get out all the juice. Discard the seeds, skins, and thyme. Chill syrup until ready to use.
For the martini:
Add berry syrup, vodka, triple sec, and simple syrup to a cocktail shaker filled with ice.
Shake vigorously and strain into a chilled martini glass.
Garnish with an orange slice if desired.
https://magnoliadays.com/berry-orange-martini/
Copyright Magnolia Days - http://magnoliadays.com/
Disclosure: I received a set of 4 martini glasses from Distinguished Imports at no charge. I was under no obligation to give a positive review. All opinions are my own unless otherwise stated or contained within a guest post.