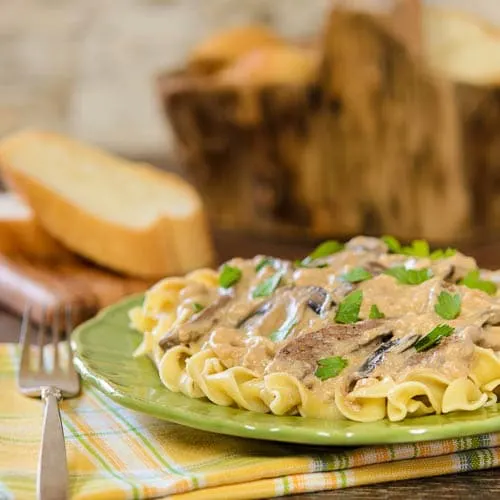 Blame it on the Polar Vortex. A brutal cold swept across the nation and left many with an abundance of snow, ice, and power outages. For the most part, Georgia was spared from frozen precipitation. It still caused schools, businesses, and some government offices to close. It was also the day a switch in my home's HVAC system decided not to work. Brrr! It was cold. Comfort was needed and it came in the form of a rich, decadent batch of beef stroganoff.
The joys of a hearty, old-fashioned beef dish. The recipe was a long time coming. Stroganoff has been my nemesis for years. I've always enjoyed it however making it was a series of constant failures. The mission was to make it without using canned soup. I wanted real, made from scratch, goodness. Sounds easy, right? Not so much, at least not for me. The consistency was the problem. The batches never came out as thick and creamy as I wanted. The solution was so simple; cornstarch. A tiny bit added at the end made it just right.
How is this beef stroganoff? It has a tang from sour cream, earthiness from mushrooms, richness from beef stock, and is married together with red wine. Did I mention it was decadent? I'm sure I did. Two cups of sour cream (the full-fat kind) makes it stick-to-your-ribs, over the top creamy, and a total splurge. Serve it over buttered egg noodles and you have true comfort food.
Did the Polar Vortex cause you to have any cravings? It was strange how those very cold days made me want beef dishes. I also made my Dad's Beef Stew and heated up leftovers of Short Ribs. What's next? Stay tuned to find out.
Beef Stroganoff
A recipe for homemade beef stroganoff. It is a rich and creamy dish made with beef strips, mushrooms, red wine, and sour cream. It is served over egg noodles.
Ingredients
12

ounces

round steak cut in thin strips

2

to 4 tablespoons olive oil

8

ounces

sliced mushrooms

1

cup

chopped onion

2

garlic cloves

minced

4

tablespoons

all-purpose flour

1/2

cup

dry red wine

3

cups

beef stock

1

tablespoon

Worchestershire sauce

2

cups

sour cream at room temperature

1

tablespoon

corn starch

if needed

2

tablespoons

cold water

if needed

Salt and pepper

Cooked egg noodles for serving
Instructions
Sprinkle steak strips with pepper.

Heat two tablespoons olive oil in a large, heavy skillet over medium heat.

Add mushrooms to the skillet and cook until tender, stirring occasionally. Use a slotted spoon to transfer cooked mushrooms to a bowl.

Add onion to the skillet and cook until soft and translucent, stirring occasionally.

Add garlic to skillet and cook for 1 minute or until fragrant. Transfer cooked onions and garlic to the bowl with the mushrooms.

Increase the heat for the skillet to medium-high.

Working in batches, add steak strips to the skillet (do not crowd the pan or meat will boil instead of browning).

Brown meat quickly on all sides and transfer to the bowl.

Add flour to skillet and cook for 1 to 2 minutes, whisking constantly. Flour should soak up pan juices and become moist. If too dry, add a small amount of olive oil.

Continue to whisk while gradually pouring in beef stock, red wine, and Worchestershire sauce.

Cook over medium-high heat until slightly thickened, stirring or whisking frequently, about 5 minutes.

Reduce heat to low. Stir in mushrooms, onion, and meat. Cook for 15 minutes.

Stir in sour cream and cook until heated through.

If the consistency is too thin, stir together the cornstarch and water. Add a small amount to the skillet, whisking in while adding, until it reaches desired consistency.

Adjust seasoning to taste with salt and pepper. Serve over egg noodles.
Recipe Notes
A recipe for homemade beef stroganoff. It is a rich and creamy dish made with beef strips, mushrooms, red wine, and sour cream. It is served over egg noodles.