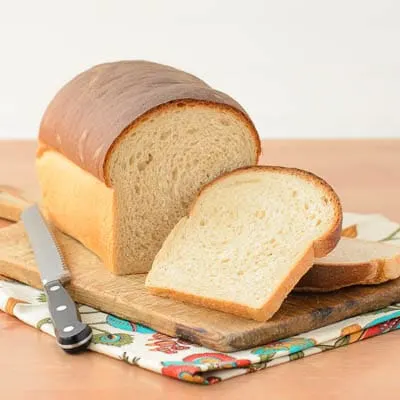 Happy New Year! Goodbye 2012 and hello 2013. It is nice to start off the year with a clean slate. Wipe away all the not-so-good stuff then set new goals and build your year on a good foundation. One of the things I want to do this year is to make more homemade bread. I thought the perfect one to kick off the year is basic white bread. As the year progresses so can the variations of it.
Basic white bread is the first bread I ever baked. It was way back in the early 1980's. I got The Red Star Centennial Bread Sampler cookbook and decided to try the first recipe in the book. I remember that day very well. It was a Saturday and my husband was at work. He came home right after I had taken the loaves out of the oven. He sliced and ate about two-thirds of one loaf right then and there. The rest of the loaf disappeared shortly thereafter. The smile on his face is all that took for me to continue baking bread over the years. I have shared some of my favorites: sourdough french bread and oatmeal wheat bread.
White bread is a classic foundation for so much. It is great with all sorts of toppings and sandwiches. My white bread is not pure white. It is because I used unbleached all-purpose flour and white whole wheat flour. Both of those flours have a very light cream color to them. I would rather have the extra nutritional value than a perfect color.
The Twelve Loaves Project will help me achieve my goal. I can see lots more bread baking this year. It will even be more fun because of the fabulous bakers joining in the project. Take a look at what we have to share for January:
What is one of your goals for 2013? Time to get started…Ready, set, go! I hope you have a wonderful and prosperous year full of love, family, friends, and great food!
#TwelveLoaves January: Clean Slate. Bake a bread, yeast or quick bread, loaf or individual. January #TwelveLoaves is all about a clean slate. After the holiday indulgences, we are starting the year with simplicity. Have fun baking with whole grains and other flours. Share with us your favorite basic bread recipes. Let's get baking!
Just follow the rules, it's as easy as pie:
When you post your Twelve Loaves bread on your blog, make sure that you mention the Twelve Loaves challenge in your blog post; this helps us to get more members as well as share everyone's posts. Please make sure that your Bread is inspired by the theme!
Please link your post to the linky tool at the bottom of my blog. It must be a bread baked to the Twelve Loaves theme.
Have your Twelve Loaves bread that you baked this January, 2013 posted on your blog by January 31, 2013.
Would you like to bake along with us? The #TwelveLoaves bread baking project was created by Lora at Cake Duchess; a monthly baking adventure created for the love of bread. Drop Lora a line to join in on this monthly bread baking fun! Follow @TwelveLoaves on Twitter See what's freshly baked for #TwelveLoaves on our growing Pinterest board.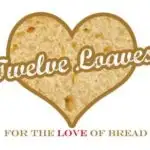 Basic White Bread
A recipe for basic white bread using unbleached all-purpose flour and white whole wheat flour.
Total Time
1
hour
10
minutes
Ingredients
2

cups

white whole wheat flour

4 1/2

to 4 cups unbleached all-purpose flour

2

packages active dry yeast

1/4 ounce each

3

tablespoons

sugar

1

tablespoon

salt

1 1/4

cups

water

1

cup

whole milk

2

tablespoons

shortening

plus more for pans and bowl
Instructions
Lightly grease two 9- X 5- or 8- X 4-inch loaf bread pans and set aside. Generously grease a large bowl and set aside.

In the bowl of a stand mixer, combine the white whole wheat flour, 1 cup of the all-purpose flour, yeast, sugar, and salt. Whisk to combine well. Set bowl on the stand mixer and attach the flat beater. In a small saucepan, heat the water, milk, and shortening until 120 to 130 degrees F (shortening does not need to melt). Add liquid to flour mixture. Blend on low speed until moistened and then increase speed to medium and beat 2 to 3 minutes. Replace flat beater with a dough hook. Turn mixer on low (first or second setting).

Add all-purpose flour, 1/2 cup at a time letting it get incorporated into the dough after each addition, until the dough pulls away from and "cleans" the side of the bowl. It will also climb the dough hook. You want a firm dough. You may not use all the flour. Continue kneading with the dough hook for about 3 to 4 minutes.

Turn the dough out on a lightly floured surface and knead by hand until smooth and elastic. Place dough in the greased bowl and turn to grease top and sides of the dough. Cover loosely with plastic wrap and set in a warm place until light and doubled, about 1 hour.

Punch down dough. Divide dough into 2 equal parts. On a lightly floured surface, roll each half into a 14- X 7-inch rectangle. Start with the shorter side and roll up tightly. Pinch edges and ends to seal. Place in the greased pans, seal side down. Cover with a tea towel and set in a warm place to rise until double.

While the dough is on the 2nd rise, preheat the oven to 400 degrees F. Once the dough has finished the second rise, bake for 35 to 40 minutes until golden or medium brown. Remove loaves from pans and cool completely on a rack. Slice and enjoy!
Recipe Notes
A recipe for basic white bread using unbleached all-purpose flour and white whole wheat flour.
Recipe adapted from The Red Star Centennial Bread Sampler cookbook published in 1981. The cookbook is no longer in print.