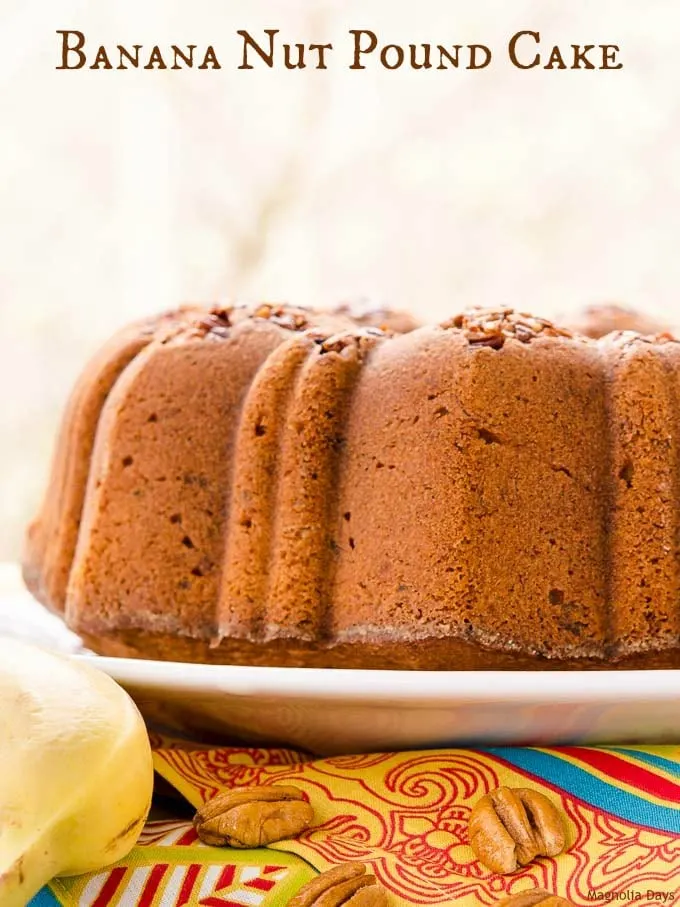 What makes a cake spectacular? I imagine some would say the way it looks. They see an artfully decorated cake and swoon at the sight of it. Sure those are pretty. Some are incredibly magnificent. I admire the artistry it takes to create those masterpieces. However for me taste is the real winner. I'd rather have a slice of Banana Nut Pound Cake than any of those fondant covered show stoppers.
Sometimes simplicity rises above. A few ingredients is all it takes. This is where a pound cake shines. A true one having a pound each of flour, sugar, butter, and eggs. Together they make a dense, sweet cake enjoyed alone or as a base for a multitude of toppings. Then all the variations came about. I'm good with those variations too. As long as it has the classic dense texture, all is okay.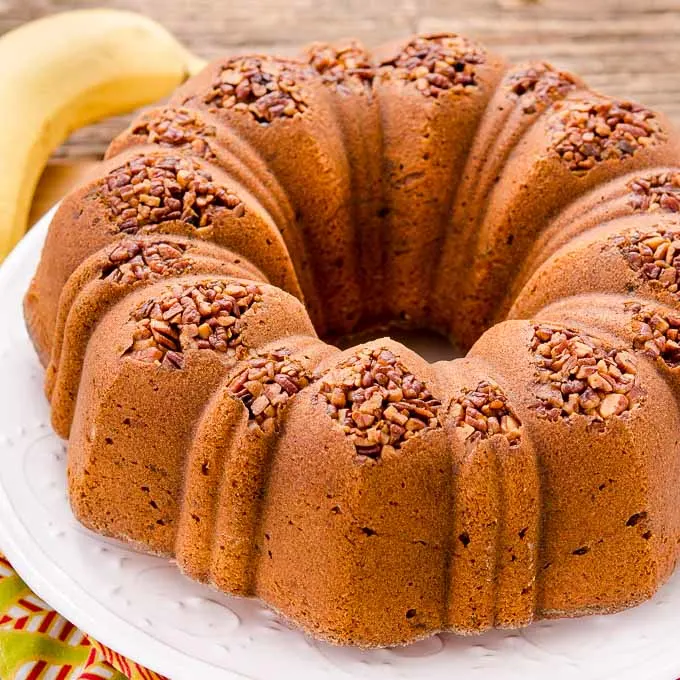 It was time again for a virtual trip to the topics. The Bundt Bakers theme this month was designated as Tropical Vacation. Of course the first thing I thought of was coconut. Oh how I love coconut. Love it. Then I thought I should do something different. Banana was next in line and I'm so very glad I chose to go with it. Unfortunately I could not post this recipe on Bundt Bakers day because of my website being down. So I'm having my own day for it.
Banana Nut Pound Cake has the classic pound cake texture. Oh, it is dense for sure. It is also very moist, or rather, super duper moist. The bananas are what makes it that way. And the flavor of the cake? Think banana bread. Yep, delicious banana bread flavor in cake form. Not any cake form either, pound cake form. This cake is so good it does not need any topping. I couldn't even bring myself to dust it with sugar.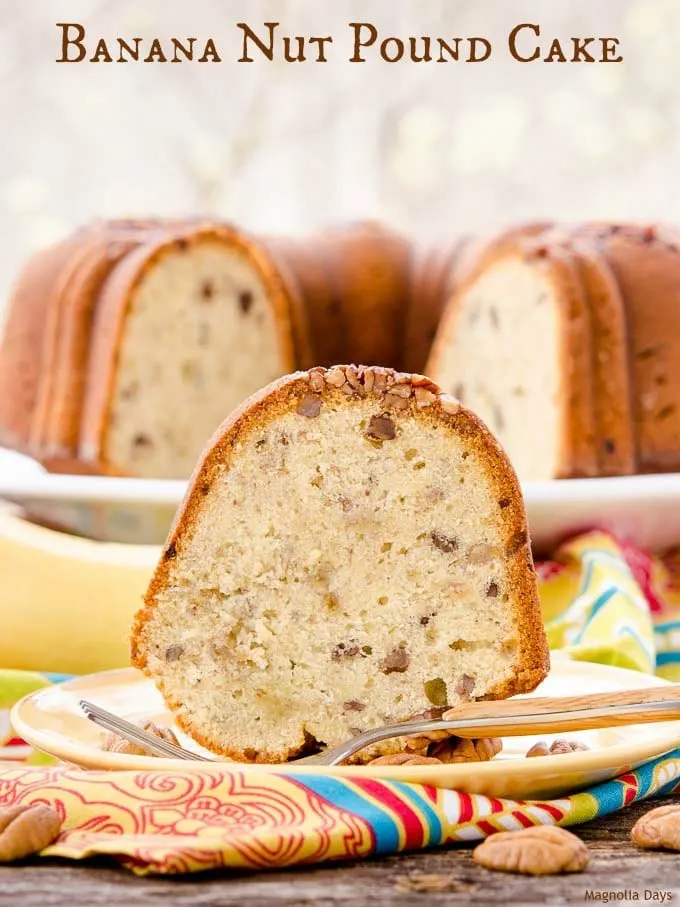 An update on my hounds. Getting Zephyr to be Milo's big brother was the right decision. Milo is becoming less afraid of everything. He is venturing around and investigating parts of the house he would not go in before. Plus he is discovering and getting into things like the bathroom trash can. What is it with puppies and tissue or toilet paper? He's sneaky about it too. So far I haven't been able to catch him in the act so I can correct him. There is only aftermath and at that point it is too late.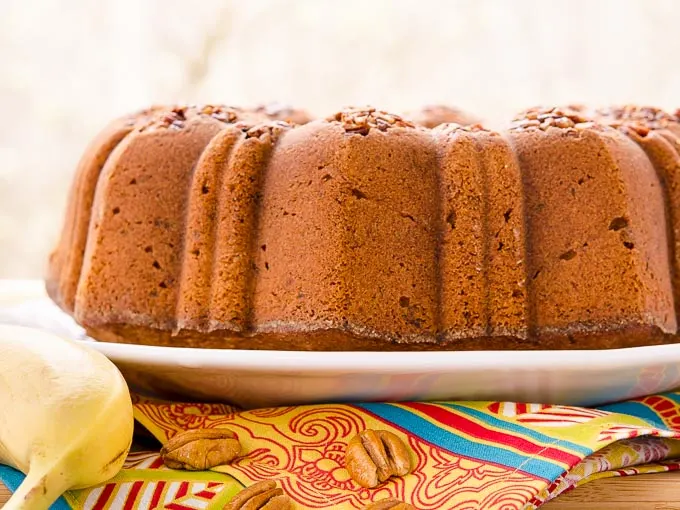 What to do with extra bananas? You can always make my Mom's Fruit Salad or Chocolate Banana Nut Brownies. I'm also thinking about working on a banana ice cream recipe. My mother-in-law has one I need to get. She used to make it long ago. The family enjoyed it so much it may be time to make a batch and soon. Stay tuned…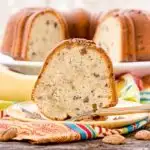 Banana Nut Pound Cake
Banana Nut Pound Cake is moist with the texture of classic pound cake and flavor of banana bread. It's a delightful dessert for any occasion.
Cook Time
1
hour
30
minutes
Total Time
1
hour
45
minutes
Servings
12
to 16 servings
Ingredients
1

cup

chopped pecans or walnuts

divided

1 1/2

cups

unsalted butter

at room temperature

2

cups

granulated sugar

5

large eggs

at room temperature

1

teaspoon

vanilla extract

3 1/2

cups

all-purpose flour

1

teaspoon

baking powder

1/2

teaspoon

salt

2

cups

mashed ripe bananas

about 4 large ones
Instructions
Preheat oven to 325°F. Lightly grease and flour a 12-cup bundt pan. Sprinkle 1/4 cup pecans in pan.

In a large bowl using an electric mixer on high speed, beat butter and sugar until light and fluffy.

Add eggs, one at a time, beating well after each addition. Add vanilla and mix well.

It is important for this cake to measure the flour using the spoon and sweep method. Use a spoon to fill measuring cup with flour then level off by sweeping across with a flat edge. Scooping measuring cup directly from flour container will firmly pack it resulting in too much flour.

Whisk together flour, baking powder, and salt.

Add flour mixture in three additions, alternately with bananas in two additions, mixing on low speed until just combined. Do not over-mix.

Stir in remaining pecans.

Pour batter into prepared pan. Bake for 1 1/2 hours or until a toothpick or cake tester inserted in the center comes out clean.

Cool cake in pan for 15 minutes. Remove cake from pan and cool completely on a wire rack.
Recipe Notes
Banana Nut Pound Cake is moist with the texture of classic pound cake and flavor of banana bread. It's a delightful dessert for any occasion.
Recipe adapted from Banana Pound Cake on the Imperial Sugar website.