Blame it on the jam. It is what started the chain of events that led to this Apricot Buttermilk Coffee Cake. There I was perusing the items in one of the close-out stores and noticed a jar of apricot jam. It was not preserves, not jelly, but jam. I picked up the jar and looked at it closely to make sure it did not have chunks of fruit inside. Yes, I prefer smooth, non-chunky jam over jelly or preserves. Into the cart it went and then was placed in my pantry as soon as I arrived home.
The jar kept hinting at me to use it. I swear gremlins were putting it front and center so I would see it each time I opened the pantry door. Then an open bag of dried apricots started chiming in and so the nagging had to end. Apricots remind me of Germany for some reason. Germans do love their afternoon coffee and cake time. The decision on what to make was easy. All I needed was buttermilk.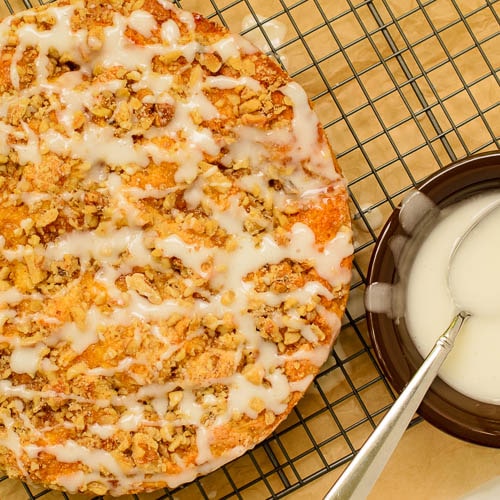 How is the Apricot Buttermilk Coffee Cake? It is a single layer cake topped with pecans and glazed. Under those pecans are swirls of apricot jam. The cake is loaded with bits of apricots and not overly sweet. It goes wonderfully with coffee and I'm sure it would also pair nicely with tea.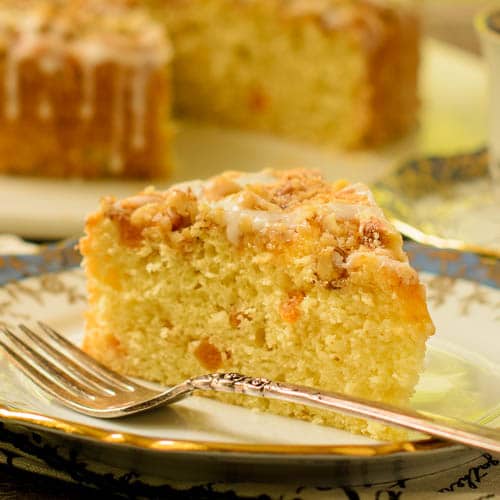 Do new finds at a store inspire you to cook or bake? It absolutely does for me. Traveling does it for me too. I'll be going to Germany with my mom in October. Enjoying afternoon cake and coffee while we are there will certainly make my to-do list grow. Celeriac Salad and German Apple Cake are a couple of recipes inspired by my last visit. There are still more I haven't shared yet. Stay tuned…
Apricot Buttermilk Coffee Cake
For the cake:

2 cups all-purpose flour
3 teaspoons baking powder
1/2 teaspoon baking soda
1/4 teaspoon salt
1/4 cup diced dried apricots
2 large eggs, at room temperature
1 cup buttermilk, at room temperature
1/2 cup plus 1 teaspoon granulated sugar, divided
1/4 cup unsalted butter, melted
1/4 cup apricot jam or preserves
1/4 cup chopped walnuts
For the glaze:

1 cup confectioners sugar, sifted
2 1/2 tablespoons buttermilk
For the cake:
Preheat oven to 350 degrees F. Lightly grease a 9-inch round cake pan. For easier removal of cake from the pan, line the bottom of the pan with parchment paper and lightly grease parchment.
Whisk together flour, baking powder, baking soda, and salt in a large bowl. Add the apricot pieces and whisk to combine.
Whisk together eggs, buttermilk, 1/2 cup sugar, and butter in a separate bowl.
Pour liquid ingredients into dry ingredients and stir to until just combined.
Spread batter evenly in prepared pan.
Dollop jam by teaspoonfuls over batter and swirl with a knife.
Sprinkle walnuts on top of batter. Sprinkle remaining 1 teaspoon sugar on top of walnuts.
Bake for 35 to 40 minutes, until a toothpick or cake tester inserted in the center comes out clean.
Cool cake in the pan for 7 minutes on a wire rack. Remove cake from pan and cool completely on a wire rack.
For the glaze:
Stir together confectioners sugar and buttermilk in a small bowl until smooth. Drizzle glaze over cake.
https://magnoliadays.com/apricot-buttermilk-coffee-cake/
Copyright Magnolia Days - http://magnoliadays.com/
Recipe adapted from one in the Southern Living Magazine October 2013 edition.