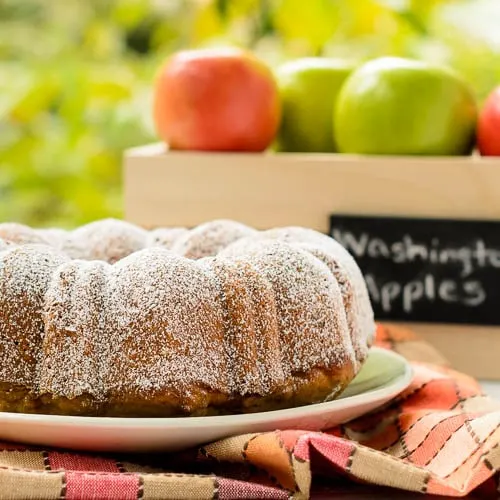 One leaf has to start it all. It turns from green to brown then breaks away from the tree. Soon others join in the annual drop and the ground is covered with them. It signifies the beginning of a new season. Sadly summer is ending and autumn brings its own colors to the landscape. Farmers markets change their offerings to apples, pears, winter squash and more. Baking changes along with it. Warm spices reign as the temperature outside cools down. To celebrate autumn's harvest I baked an Applesauce Walnut Raisin Cake.
Mace is one of those warm fall spices. However I do not see it used often these days and I wonder why. Perhaps it is because of the name being associated with tear gas or pepper spray. It is actually the ground up aril (net-like sheath) that covers nutmeg. It has an orange-brown color and a heavenly aroma. There is nothing peppery about it and it will not make your eyes tear and burn.
Heavenly aroma also describes this cake. It is one of those you would wish the scent could be bottled. I could not help but smile when it was baking. I would walk in the kitchen and take deep breaths to try and get in as much as I could. The cake's aroma is equally matched by its taste. The texture is moist with a delicate crumb combined with chewy raisins and crunchy walnuts. Cinnamon and allspice go along with mace to make a flavor combination that enhances apple and makes this cake fitting for autumn.
What do you crave when autumn arrives? Take a look at this list of bundt cake recipes celebrating the harvest of the season. There are so many wonderful choices being shared by Bundt Bakers. Thanks to Tux of Brooklyn Homemaker for hosting this month. For other fall recipes, take a look at Apple Walnut Cream Cheese Cookies and Black Rice with Butternut Squash.
Applesauce Walnut Raisin Cake
A recipe for homemade Applesauce Walnut Raisin Cake from scratch. It is a moist cake flavored with warm spices of cinnamon, allspice, and mace.
Total Time
1
hour
20
minutes
Servings
12
to 16 servings
Ingredients
1

cup

chopped walnuts

1

cup

golden raisins

3 1/2

cups

all-purpose flour

1

teaspoon

baking soda

1

teaspoon

ground cinnamon

1/2

teaspoon

ground allspice

1/4

teaspoon

ground mace

1/4

teaspoon

salt

1

cup

unsalted butter

at room temperature

1

cup

granulated sugar

2

large eggs

at room temperature

1

teaspoon

vanilla extract

2

cups

unsweetened applesauce

Confectioners sugar

optional garnish
Instructions
Pre-heat oven to 350 degrees F. Grease and flour a 10- or 12-cup bundt pan

Combine walnut and raisins in a small bowl.

Whisk together flour, baking soda, cinnamon, allspice, mace, and salt in a separate bowl. Add 1/4 cup of the flour mixture to the walnuts and raisins and stir to combine.

Cream butter and sugar in a large bowl until light and fluffy. Add eggs one at a time, beating well after each addition. Add vanilla and beat to combine.

Add flour mixture to creamed mixture alternately with applesauce beginning and ending with flour mixture. Stir in walnuts and raisins.

Transfer batter to prepared pan and spread evenly in the pan.

Bake for 55 to 60 minutes, or until a toothpick or cake tester inserted in the center comes out clean.

Cool cake in the pan for 10 minutes. Remove cake from pan by inverting it onto a wire rack. Cool cake completely.

Dust cake with confectioners sugar if desired.
Recipe Notes
A recipe for homemade Applesauce Walnut Raisin Cake from scratch. It is a moist cake flavored with warm spices of cinnamon, allspice, and mace.
Recipe adapted from one in The Country Cooking Recipe Collection Prize-Winning Apples booklet published in 1994 (no longer in print).
What is Bundt Bakers? It's a group of Bundt loving bakers who get together once a month to bake bundts with a common ingredient or theme. Follow our Bundt Bakers Pinterest board for incredible bundt cake recipes and inspiration. Stacy of Food Lust People Love heads up our group and has a #BundtBakers page where you can find information and links to the recipes for each month.
How is the monthly theme determined? We take turns hosting each month and choosing the theme/ingredient.
Would you like to join in the fun? If you are a food blogger, send an email with your blog name and url to Stacy at [email protected].