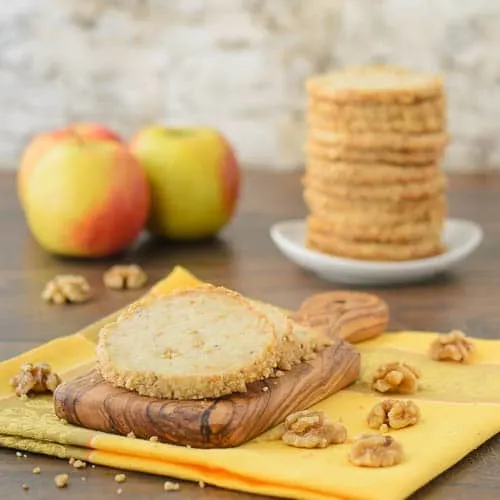 Apples were on the counter beside a mandoline. Three baking sheets lined with parchment were by the oven. The project to make dried apple slices started with great hope. Then glitches started to appear. The apples were wider than the mandoline. Raised sides prevented them from contact with the blade. Sides were sliced to make them fit. Soon there were uniquely shaped slices spread on the parchment. Into the oven they went to become dry and crispy. A few hours later it was evident the chips were a failure. Some were soft and the rest were over-done. Into the trash they went and I was off to the store to get a bag so I could make apple walnut cream cheese cookies.
Making apple chips seemed like a great idea. How difficult can it be? Perhaps it is my nemesis in the baking world. Such a simple thing to go so wrong. Oh well, it's all good. The crispy ones from the store did nicely. They crushed up perfectly in my food processor. Those crushed up bits are a great substitute for nuts. My goal was to have a subtle apple flavor added to walnut cream cheese cookies. They turned out exactly as I imagined. If you want more apple flavor, increase the amount of crushed apple chips and decrease the amount of walnuts in the dough.
These cookies have one feature I really enjoy. The dough is made, shaped into logs, and frozen. This means you can keep it in the freezer for weeks (or perhaps longer if wrapped well with layers of plastic wrap or foil). It's handy when you want fresh cookies but don't have the time to make the dough. This is way better than any slice and bake cookies you get at the store. Just be ready for them to disappear shortly after baking. Oh the buttery, apple-y, nutty, cream cheese goodness!
Do you enjoy baking cookies? The Creative Cookie Exchange is a group of bakers and bloggers who shares recipes each month based on a theme. CCE is hosted by Laura of The Spiced Life and Rebecka of At Home With Rebecka. And this month's theme is apples. You can join in the fun too. Scroll down to see the details and find links to more great cookies.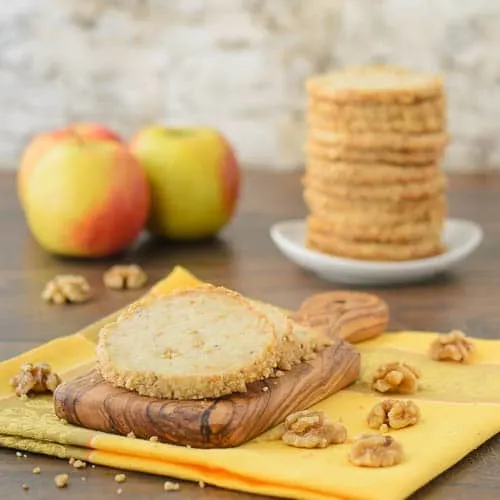 Apple Walnut Cream Cheese Cookies
A recipe for Apple Walnut Cream Cheese Cookies made with chopped dried apples. The buttery cookies have a subtle apple flavor and crunch from walnuts.
Ingredients
4

cups

all-purpose flour

1 1/4

teaspoons

kosher salt

2

cups

unsalted butter

4 sticks, at room temperature

6

ounces

cream cheese

at room temperature

1 1/4

cups

sugar

2

tablespoons

vanilla extract

2 1/2

ounce

bag dried apple chips finely chopped

makes 3/4 cup

1 3/4

cups

walnuts

3/4 cup toasted and coarsely chopped, 1 cup finely chopped, divided
Instructions
Whisk together flour and salt in a bowl.

In the bowl of a mixer fitted with a flat beater, add butter and cream cheese. Mix on medium speed until light and fluffy, about 2 minutes, scraping down the sides as needed.

Add sugar and vanilla, and mix until well combined.

Add flour and mix on low speed until just combined (do not over mix).

Stir or mix in apple chips and toasted walnut pieces.

Transfer dough to a work surface and divide in half. Shape each half into a log, 8 1/2 inches long and 2 inches in diameter.

Wrap each log in parchment paper and freeze overnight or up to 2 weeks.

Position oven racks in the upper and lower thirds of the oven. Preheat oven to 350 degrees F.

Take out one log from the freezer and let it set out for 30 minutes. Unwrap the log and roll it in the remaining chopped walnuts, coating completely.

Slice into 1/4-inch rounds. Space 1 in apart on baking sheets lined with parchment paper or non-stick liner.

Bake cookies for 18 to 20 minutes, rotating halfway through, until golden around the edges.

Let cookies cool completely on the baking sheets on wire racks. (Do not remove cookies from baking sheet until completely cooled).

Repeat with remaining log and walnuts. Store cookies in a airtight container at room temperature up to 3 days.
Recipe Notes
Total time does not include time for freezing the cookie dough. These cookies have a subtle apple flavor. You can increase the amount of dried apples for more apple flavor (remember to equally reduce the amount of chopped walnuts).
Want to join in the Creative Cookie Exchange fun? Here's how:
1. Write a blog post with recipe and original photo (please include some language here specific to that month's theme). We would like the recipe to be one you're making for the first time, and photos must be original.
2. Post the Cookie Exchange logo somewhere on your blog post so others can join in the fun: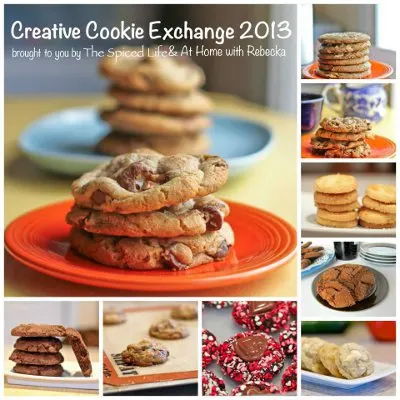 3. Make a good faith effort to visit and comment on the other cookies in the Linky party. We all love cookies so that should be easy!
4. LIKE the Creative Cookie Exchange Facebook Page
5. FOLLOW the Creative Cookie Exchange Pinterest Board
6. LINK your blog post below using the Linky tool
You can also just use us as a great resource for cookie recipes–be sure to check out our Facebook page, our Pinterest Board, and our monthly posts. You will be able to find them the first Tuesday after the 15th of each month! Also, if you are looking for inspiration for this month's theme, check out what all of the hosting bloggers have made so far:
Cider Snaps from Cookie Dough & Oven Mitt
Ginger Sandwich Cookies with Apple Butter Cream Filling from A Baker's House