Magnolia Days is a ZipList Featured Partner. I was thrilled to make the announcement last year. Now I'm even more thrilled to share some enhancements to the partnership. But first, a little about ZipList in case you don't know what it is all about. What you have seen of it here is the plugin I use to format my recipes. It is what gives the options to save and print (see below recipe) among other behind the scenes functions.
ZipList makes grocery shopping simple. It also is where you can save recipes, plan meals, makes shopping lists, look for grocery deals, and so much more. The tools work together to help you with the whole grocery shopping experience. To get started all you have to do is set up an account on the ZipList website. You can learn the features on the How It Works page.
Once you have an account the fun begins. You can start by saving recipes to your recipe box with a click. Look for the "Save Recipe" button on recipes (like here) or use the Recipe Clipper Button in your browsers bookmarks toolbar. When you are ready to cook a recipe you can easily add the ingredients to your shopping list. You can plan meals with the meal planner. You can also look for grocery deals at your local store. Put them all together and take it on the go with your mobile phone. Easy!
ZipList is now integrated in Magnolia Days. You can get to your recipe box and more right here. It's in the navigation menu:
Want to go to your recipe box? It's a click away and this is what it will look like when you get there:
You will see my blog when you click to save a recipe. Here's an example of the window that opens: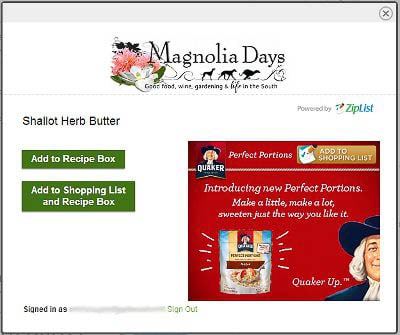 ZipList is great for grocery shopping. I use it and it has saved me time and effort. I am proud to have it a part of this blog. I look forward to our continued partnership and passing the benefits along to my valued readers like you!
Shopping Made Simple Recipe
Announcement of enhancements to the ZipList Featured Partnership with Magnolia Days
Ingredients
1

ZipList Account

1

ZipList Recipe Clipper Button

1

ZipList Mobile App

1

ZipList Recipe Box

1

ZipList Shopping List

1

ZipList Meal Planner

1

ZipList Grocery Deals
Instructions
Combine all ingredients.

Stir with a few clicks.

Save recipes, plan meals, organize shopping lists, get deals, and shop simply!