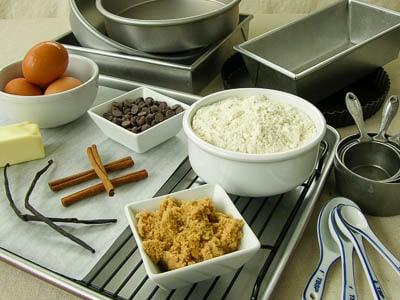 The holiday baking season has arrived. It starts with Halloween and goes all the way through the New Year celebration. Flour, eggs, sugar, and a whole lot of other ingredients are put together for seasonal treats. I love baking and want everyone to have a wonderful experience and great results. I wrote a baking tips article a while back for 12 Most and I am sharing it here today to kick off the season. Republished with permission, courtesy of 12 Most.
Are you intimidated with baking? Have you tried and were you disappointed?
Don't give up. You can do it successfully. Home-baked desserts are such a special treat. Made from scratch far exceeds store-bought and is well worth the time and effort. Start with a simple recipe to learn the basics.
To help with your success, here are some tips for better baking results:
1. Clear out expired ingredients
Baking powder and soda, spices, extracts, and eggs all have expiration dates. Whole wheat flour can go rancid. Baking powder and soda will lose potency and cause baked goods not to rise. Butter will absorb flavors. Clean out your pantry and refrigerator and then make a shopping list of needed items.
2. Buy quality ingredients
Get the best you can afford within your budget. Check the ingredients of your ingredients. Vanilla should not have water in it. If it does, the flavor will be diluted. Low quality chocolate has an off-taste and may not melt or mix properly. The taste and flavor of the finished product depends on the goodness of what you put in it.
3. Invest in good bakeware
Thin pans can cause uneven baking. Dark pans absorb and hold more heat resulting in over-browning. Aluminum or aluminized steel cake pans and cookie sheets are the best choice for consistent color and texture. Quality bakeware will last much longer and give better results.
4. Parchment paper is your friend
Line cookie sheets with parchment and cookies will not stick. Plus, it makes for easy clean-up. Add parchment to the bottom of a cake pan and cakes will easily come out of the pan. For fudge and brownies, line the bottom and sides of the pan with about an inch overhang. You will be able to lift the entire batch out of the pan.
5. Read instructions thoroughly
Check for time and equipment needed. Cakes do not do well if the batter sits for too long. Stopping in the middle can affect how it turns out. If you only have an hour it is best not to start a recipe that takes three hours to complete. Getting two-thirds through a recipe and discovering it calls for a piece of equipment you do not have is frustrating and difficult to work through. You can always borrow what you need from a friend beforehand.
6. Have ingredients at the correct temperature
Typically eggs, milk, cream, butter, and most all refrigerated items should be at room temperature. Check the recipe to be sure. Most recipes call for chocolate and butter to be melted and cooled. Adding ingredients at the wrong temperature can ruin the batter. A candy or instant-read thermometer should be used when exact temperatures are required.
7. Set out all the ingredients and equipment
Have everything in front of you or within reach. It makes the process easier and faster when you do not have to keep going back to the pantry or refrigerator. It is also a reminder of everything that goes in the mix. There are less chances of forgetting an ingredient when you see it sitting there.
8. Measure precisely
Baking is a science and you create chemistry when you mix together the ingredients. The balance of flour, leaveners, fats, and liquids is critical to success. Measuring spoons, dry and liquid measuring cups, and a kitchen scale are tools you will need. Level off dry ingredients using the straight edge of a knife. Check the amount of liquids by setting the measuring cup on flat surface. Use a scale for measuring weight. The more exact you are the better.
9. A thorough creaming gives an extra lift
Most recipes for cakes and cookies call for creaming sugar and butter until light and fluffy. Just mixing them together for a minute or two is not creaming. What you want to do is incorporate tiny air bubbles into the fat. The air bubbles help with the rise and soft texture. Beat butter and sugar on high speed until it becomes lighter in color and has a little more volume.
10. Crack eggs one at a time in a separate bowl
Every now and then you will run across a bad egg. It is better to find that out before you put the egg into the batter. If you crack the egg directly into the mixture there is no way to dig it out. The same goes for egg shells. It is easier to see bits of shell and get them out before you dump the egg into the batter.
11. Add flour a little at a time and don't over-mix
When flour is mixed with liquids and stirred around it starts to form gluten. A little gluten is necessary to the baking process. Too much gluten can make your cake or cookies tough and bread-like chewy. This is why many recipes specify adding flour in increments and alternately with a liquid on a low speed. It is also important to only mix until it is combined. Over-mixing causes excess gluten to form.
12. Bake until done and not a second more
Save yourself from dried-out cakes and cookies. Set a timer as soon as soon as you put something in the oven. If the recipe says 8 to 12 minutes, set it for 8 minutes. For cakes, use a toothpick or cake tester to test doneness. Usually a cake is done when a tester is inserted in the middle and comes out clean. If not, check every couple of minutes. For cookies, watch carefully because one minute can make a complete difference.
Baking is fun. Just relax and take it one step at a time. Before you know it you will be baking like a pro. Do you have any tips? Share your knowledge and help others discover the joys of baking and unleash their inner baker.