A day late and a dollar short. I missed the boat. Or any of the sayings about being late or missing an event/deadline/date/etc. That's what I felt like about a month ago. I knew Cinco de Mayo was coming. It's hard not to when I see umpteen Mexican recipes floating around the internet. Yet I wasn't inspired to make something for it then. Then suddenly a craving kicked in and I made Mexican Shredded Beef Flatbread.
Obviously I'm behind on Cinco de Mayo. But who cares really? It isn't like there is only one day to eat Mexican food. We have it often. I'll make burritos, tacos, or nachos whenever I'm in the mood for it. This time I wanted something a little different. Seeing a commercial for flatbreads sparked the idea.
Time was short too. It's a busy time of year with getting the yard ready for spring. Plus traveling and what seems like an endless to-do list. I remembered having a container of Mexican shredded beef in the freezer. All I needed was those pre-made flatbreads and some toppings. A quick stop at the store later and I was ready to get cooking.
Mexican Shredded Beef Flatbread starts with the beef. It's something super quick if you have some on hand like I did. Otherwise you need to make it in the slow cooker. It's a big batch for the two of us. I'll divide it up and freeze portions to use later. Another something I've made with it is Mexican Shredded Beef Breakfast Burritos.
Next up is flatbread assembly. First you need to bake the flatbreads for a couple of minutes. Then spread a little salsa on them and scatter beef, onion, jalapeño, and cheese around. Bake them until the cheese is melted. Carefully transfer to plates with spatulas. At this point you can eat them as-is.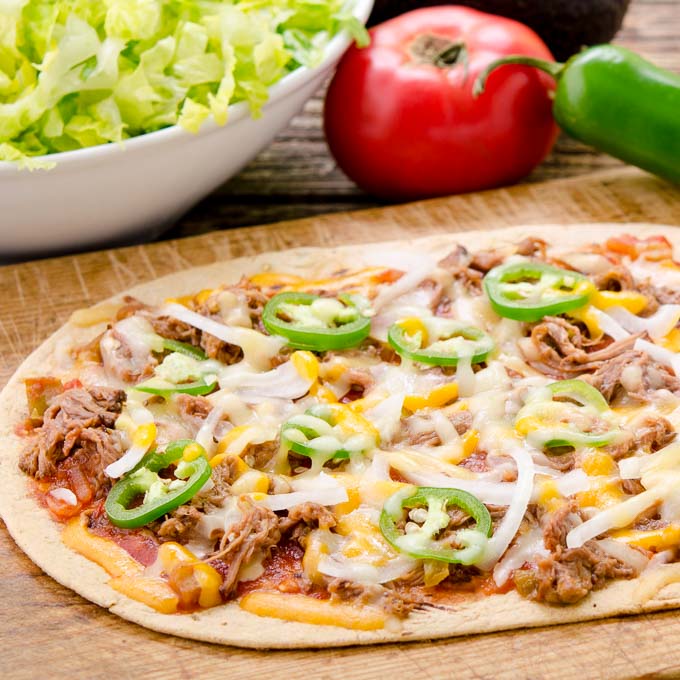 Or you can keep going with the toppings. Pile on romaine lettuce, tomato, and avocado. Serve with more salsa as a sort of dressing. It's a spin on a classic taco salad. It's just flat instead of a bowl. What about dessert? I suggest Mexican Chocolate Pepita Shortbread Cookies. A little sweet treat after a spicy meal is a good thing.
Mexican Shredded Beef Flatbread
Ingredients
For the Mexican shredded beef:
2 to 2½ pounds beef shoulder roast, boneless arm chuck roast boneless, or boneless blade chuck roast
1 large onion, sliced
2 tablespoons minced garlic
1½ cups salsa or picante sauce
For the flatbreads:
2 pre-made flatbreads (I used Flatout brand)
⅓ cup salsa
6 ounces Mexican shredded beef
¼ onion, thinly sliced
1 jalapeño pepper, thinly sliced
1 cup shredded Mexican blend cheese
2 cups chopped romaine or iceberg lettuce
1 small tomato, chopped
½ avocado, chopped
Instructions
For the Mexican shredded beef:
Place onion and garlic in a 3½ to 5 quart slow cooker. Place roast on top. Cover and cook on low for 9 to 10 hours or on high for 5 to 6 hours, or until roast is fork-tender.
Remove roast from slow cooker. Shred beef with 2 forks. Discard cooking liquid and onions (or skim and discard the fat from it and save it for another purpose).
Combine salsa with shredded beef. Cover and chill for at least 4 hours or overnight.
For the flatbreads:
Place 6 ounces of shredded beef in a bowl. Cover loosely with paper towels or parchment paper and microwave until heated through, stirring occasionally.
The remaining beef can be frozen to be used for another purpose.
Preheat oven to 375°F.
Place flatbreads on a baking sheet. Bake for 2 minutes.
Spread salsa on flatbreads to ½-inch of the edge.
Sprinkle beef, onion, jalapeño, and cheese on flatbreads.
Bake for 5 minutes or until cheese is melted.
Use 2 wide spatulas to carefully transfer flatbreads to plates.
Top flatbreads with lettuce, tomato, and avocado.
Serve with additional salsa or picante sauce if desired.
Recipe for Mexican shredded beef adapted from Four-Way Slow Cooker Shredded Beef with Mexican Variation on the Beef It's What's For Dinner website.