Fall really kicked in this week. Temperatures range from highs in the 60's to dipping into the upper 30's at night. It signaled the time to change my garden from summer to winter. Fall sends out another signal too: pumpkin. A plethora of recipes flood the internet. Guess what? I'm part of another batch of them. Since I only like one small part of pumpkin, I made Mexican Chocolate Pepita Shortbread Cookies.
Pepitas are the part I like. Cookies made with them were a challenge. As I searched for recipes there were basically two flavor combinations; lemon/rosemary or chocolate. I had to go with chocolate, especially Mexican chocolate with a nod to the upcoming Day of the Dead celebration. What makes chocolate to be Mexican chocolate? It is a simple addition of cinnamon.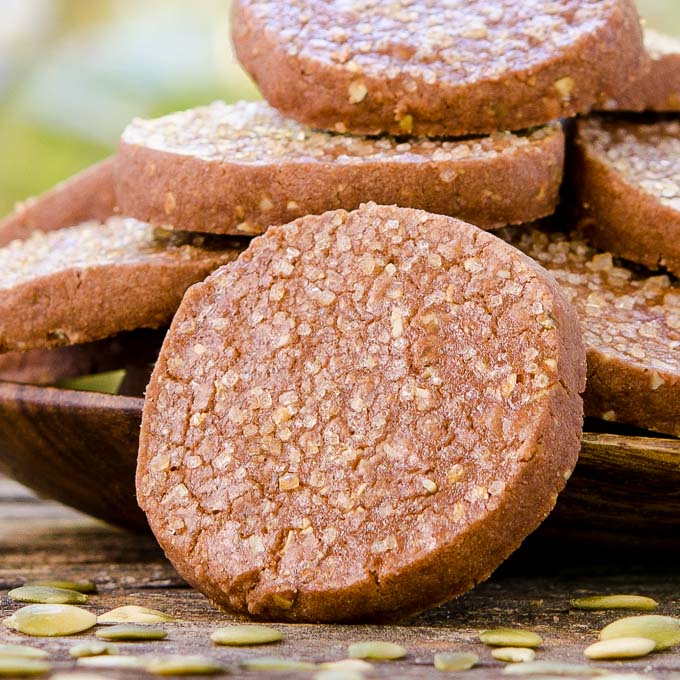 I had to modify the method of the original recipe. It was for cutout cookies. I thought it would be perfect since the theme is pumpkin and I have a cookie cutter in that shape. However, I read the recipe reviews and noticed people had trouble rolling out and cutting the dough. I could see why once I made the dough. So I changed it to sliced ones and they came out wonderfully.
Decorating the cookies is easy. It is simply brushing on an egg white wash and sprinkling with sugar or sprinkles. Had I made them as cutouts, I would have used orange colored sugar to give them a pumpkin-y orange glittery sheen. Plan B changed it to turbinado sugar or Halloween colored sprinkles. I just so happened to have pumpkin shaped sprinkles and made some with faces. Those you can really see the bits of pepitas in the cookies. Meet Pepe, my crackly, freckle-faced cookie:
How are Mexican Chocolate Pepita Shortbread Cookies? They have the classic crunchy texture and slight sweetness of shortbread. Their flavor is chocolate with a hint of cinnamon plus a touch of nuttiness.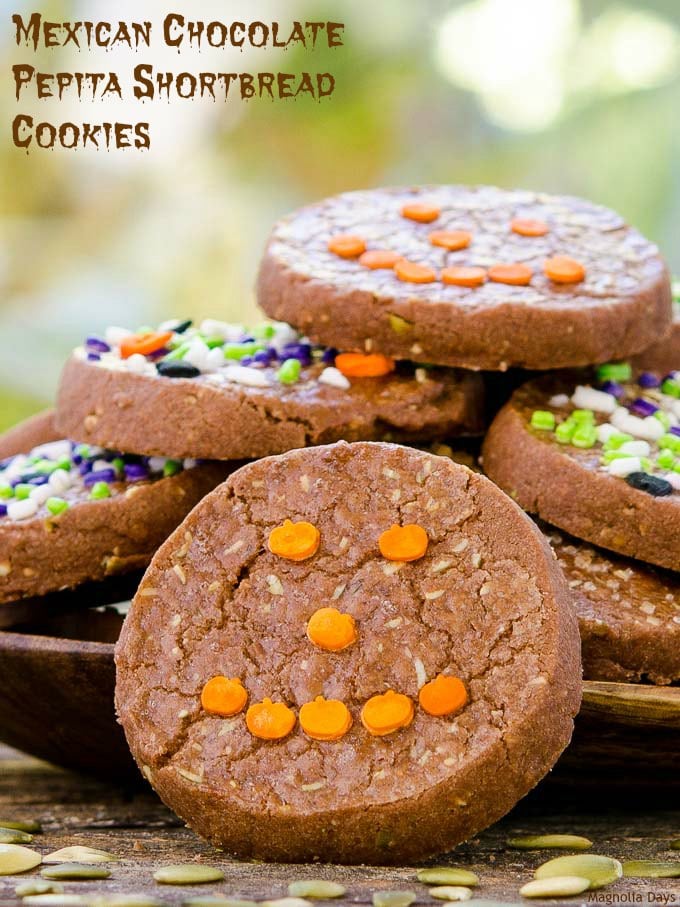 Do you enjoy pumpkin? Then this month's Creative Cookie Exchange is for you. Scroll down to find the list of cookie recipes celebrating it. Also take a look at Celeriac Sweet Potato Soup and Butternut Squash White Bean Soup for more recipes with pepitas.

Mexican Chocolate Pepita Shortbread Cookies
Ingredients
½ cup raw unsalted pepitas (pumpkin seed kernels)
4 ounces semi-sweet chocolate, chopped (do not use chips)
1 cup unsalted butter, at room temperature
½ cup granulated sugar
1 teaspoon vanilla extract
¾ teaspoon ground cinnamon
½ teaspoon salt
2¾ cups all-purpose flour
1 egg white
1 teaspoon water
Turbinado sugar or sprinkles for decorating
Instructions
Toast pepitas by placing them in a large dry skillet over medium heat. Cook, stirring occasionally, about 3 minutes. They will lighten in color and some will pop. Remove pepitas from skillet and cool to room temperature.
Grind pepitas in a food processor or spice grinder until coarsely ground.
Place chocolate in a bowl over simmering water. Melt, stirring occasionally, until smooth. Transfer chocolate to a large bowl and cool for 3 minutes.
Add butter, granulated sugar, vanilla, cinnamon, and salt to chocolate. Beat until thoroughly combined.
Whisk together flour and ground pepitas. Add to creamed mixture and beat until just combined.
Divide dough in half. Press each half firmly together and shape into a 7-inch log. Wrap logs in parchment paper and chill thoroughly, at least 3 hours or overnight.
Preheat oven to 325°F. Line baking sheets with parchment paper or non-stick liners.
Cut each log into 20 slices. Place slices 1 inch apart on baking sheets.
Whisk egg white and water together.
Brush cookies with egg white and sprinkle turbinado sugar or sprinkles on top.
Bake cookies for 18 minutes, or until just firm to touch.
Cool cookies 5 minutes on baking sheets then transfer to wire rack to cool completely.
Notes
Time stated does not include cooling pepitas and chilling dough.
Recipe adapted from Mexican Chocolate and Pepita Shortbread Stars on the Epicurious website.
The Creative Cookie Exchange theme this month is Pumpkin. It is only October and you can't possibly be tired of this glorious symbol of the fall harvest yet. If you are a blogger and want to join in the fun, contact Laura via email (thespicedlife AT gmail DOT com) and she will get you added to our Facebook group where discuss our cookies and share links.
You can also use us as a great resource for cookie recipes. Be sure to check out our Pinterest Board and our monthly posts (you can find all of them here at The Spiced Life). You will be able to find them the first Tuesday after the 15th of each month! Also, if you are looking for inspiration to get in the kitchen and start baking, check out what all of the hosting bloggers have made: