The seed was planted at a steakhouse. It was a memory seed and it laid dormant in my mind for years. I remember the uniqueness of the salad because of it having grilled vegetables in it. Why up to then I never thought of it was a mystery. Why I hadn't made my version of it until now is a mystery too. Perhaps it took the right conditions to make the seed sprout. It took seeing the two words "summer grilling" to finally make Grilled Vegetable Steak Salad.
It also was a because of another delivery to my door. A box with Certified Angus Beef® brand steaks inside arrived. It is not your ordinary beef. It is what prime other common Angus beef wishes to be. It takes passing 10 science-based quality standards upheld by the U.S. Department of Agriculture before beef will qualify to be Certified Angus Beef® brand.
A simple request came with the package. It was to share a summer grilling recipe I would make for my family. I was beyond happy to oblige. The memory of the salad at the steakhouse bubbled up and a plan went into motion. All I needed to do was get fresh vegetables and gather herbs from my garden. Almost everything in the salad is grilled. It's a summer meal made with the bounty of the season and incredible steak.
What is in the salad? First and foremost is Certified Angus Beef® brand sirloin steak plus grilled corn, squash, bell pepper, asparagus and green onion are on top of romaine lettuce. Yep, all those vegetables and the lettuce is grilled. The finishing touches are grape tomatoes and a homemade fresh herb vinaigrette. It's a feast of flavors, textures, and colors. You can substitute the vegetables with your favorites, just be sure to use the premium Certified Angus Beef® brand steak.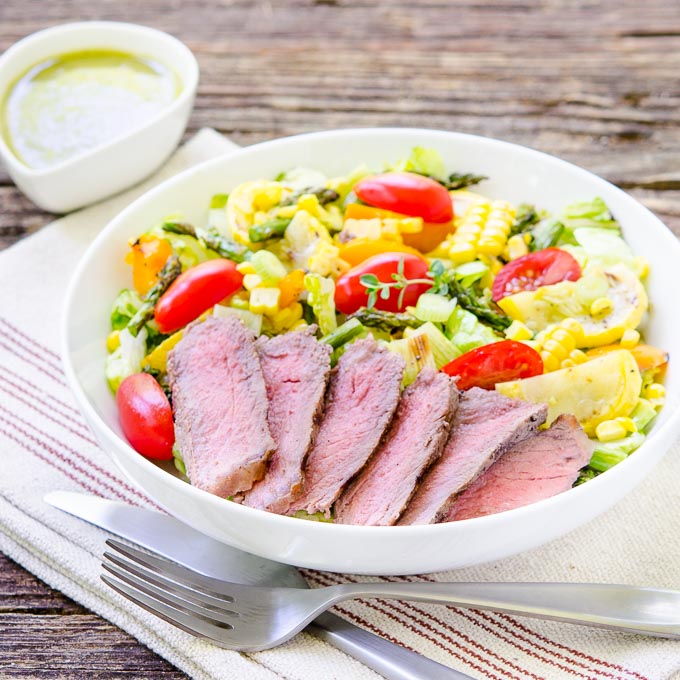 Where to find this premium beef? It's easy. All you have to do is use the Certified Angus Beef® brand locator to find both retail stores and restaurants. I'm glad to know I can get it at two of my favorite places to shop; Dekalb Farmers Market and Buford Highway Farmers Market. It's also served at lots of Atlanta restaurants including Ted's Montana Grill, Cheesecake Factory, and Smashburger.
Do you enjoy firing up the grill? Sunday Supper is proud to partner with Certified Angus Beef® brand to share summer grilling recipes. Looking at the list, I spy a whole bunch of them I want to make. Scroll down to find it and each recipe is only a click away. Also check out the Summer Grilling Recipes Pinterest board for more inspiration.
More on Certified Angus Beef® brand: You can follow them on Facebook, Pinterest, Twitter, Instagram, YouTube, and their website.

Grilled Vegetable Steak Salad
Ingredients
For the salad:
12 ounce Certified Angus Beef® brand strip steak
Olive oil
1 ear fresh corn, husk and silk removed
1 medium yellow squash, cut into ¼-inch slices
1 orange bell pepper, seeded and cut into 1-inch strips
½ bunch asparagus, woody ends removed
2 green onions, trimmed
2 heads romaine lettuce, sliced in half lengthwise
9 grape tomatoes, sliced in half
For the dressing:
1 teaspoon dijon mustard
1 teaspoon honey
⅓ cup red wine vinegar
Pinch of salt or sea salt
Pinch of fresh ground pepper
½ clove garlic, chopped
½ small shallot, chopped
A few sprigs of fresh parsley
4 fresh basil leaves
1 teaspoon fresh thyme leaves
6 to 8 fresh rosemary leaves
½ to ⅔ cup extra virgin olive oil
Instructions
For the salad:
Place steak on a plate or platter. Drizzle olive oil on steak and rub to coat both sides. Allow steak to come to room temperature about 45 minutes.
Heat grill to medium-high heat (about 450°F).
Season steak with salt and pepper. Coat corn with olive oil and season with salt and pepper.
Grill steak until desired doneness, about 4 minutes on each side for medium-rare.
Grill corn until tender and turning occasionally, about 20 minutes. Cut kernels off cobb. Discard cobb.
Allow steak to rest for 10 minutes after grilling. Thinly slice diagonally and across the grain.
Place squash, bell pepper, asparagus, and green onions in a large casserole dish. Drizzle with olive oil and sprinkle with salt and pepper. Toss to coat vegetables with oil.
Place vegetables on grill in a single layer (The steak should be resting and corn still grilling). Close lid and grill for about 3 to 5 minutes, until bottom side has grill marks.
Turn vegetables over. Close lid and grill for another 3 to 5 minutes, until bottom side has grill marks and vegetables have softened. Cut asparagus and onions into bite-sized pieces.
Brush cut side of romaine lettuce with olive oil. Place cut side down on the grill. Grill for about 2 minutes, until grill marks are on the lettuce. Cut or tear lettuce into 1-inch strips.
Divide lettuce equally in 3 bowls or on plates. Top with equal amounts of vegetables, tomatoes, and steak. Serve with fresh herb dressing.
For the dressing:
Place mustard, honey, vinegar, salt, pepper, garlic, shallot, parsley, basil, thyme, and rosemary in a blender.
Blend on high speed until ingredients are combined. Turn the blender to low speed, remove the lid (or the middle of the lid), and slowly pour ½ cup of olive oil in to the mixture. Turn blender off.
Taste dressing. If too vinegar-y add more oil with blender on low speed. Add in increments, stopping to taste, until it has your preference of oil/vinegar balance. Pour into salad dressing container or small pitcher. Use immediately.
Chill any leftover dressing. Set out about an hour before using to get to room temperature. Shake to combine (it will separate).
Summer grilling season has arrived.
Be sure to get Certified Angus Beef® brand for when you fire up the grill. Take a look at these recipes by Sunday Supper tastemakers to make incredible meals for your family and friends:
Appealing Appetizers:
Marvelous Main Dishes:
Handy Information:
Join the #SundaySupper conversation on twitter on Sunday! We tweet throughout the day and share recipes from all over the world. Our weekly chat starts at 7:00 pm ET. Follow the #SundaySupper hashtag and remember to include it in your tweets to join in the chat. To get more great Sunday Supper Recipes, visit our website or check out our Pinterest board.
Would you like to join the Sunday Supper Movement? It's easy. You can sign up by clicking here: Sunday Supper Movement.
Disclosure: This post is sponsored by Certified Angus Beef in conjunction with a social media campaign through Sunday Supper LLC. All opinions are my own.