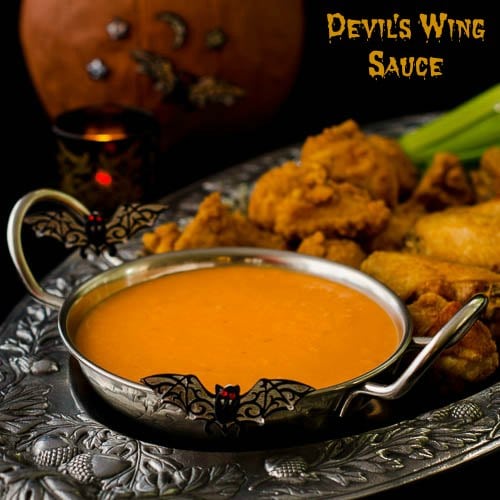 What comes to mind when you think of Halloween? It is the food for me. Honestly, I could forgo a costume easily. Then again, so many of them allow the use of stretchy pants it seems appropriate for the evening. I'll gladly put on sweats, belly up to the table, and chow down on all the special food for the occasion. Even regular appetizers on Halloween platters seems special. When I pondered on something new to make this year I thought of spicy (of course). Devil's Wing Sauce is simply fitting for the evening.
Halloween has certain colors associated with it. Black and orange are the primary ones, then red comes in close behind (think blood). Last year I concocted a Vampire's Delight Martini focusing on the blood red color and it is such a great sipper for the night. This year I went for orange and oh wow does this sauce fit the bill. Even I was surprised with how orange it is.
Devil's Wing Sauce has a devilish kick. It starts with this wonderful buttery flavor and then the heat kicks in. Red chile paste and hot sauce combine to fire it up at the end. It isn't 911 hot. You could make it that way with a few drops of habanero sauce. I think serving it as-is with a bottle of habanero sauce on the side will work nicely for anyone who really wants major heat. You can serve it as a dipping sauce or toss it with chicken wings, tenders, or shrimp.
About the photos: They would not have been possible without the generosity, once again, of my friend Terry. Do you know how many Halloween decorations I have? The answer is one. It's her serving tray, napkin, candle, and pumpkin in the photos. Terry is a brilliant and talented artist. She has an eye for things that continuously amazes me. Her home is filled with an exquisite collection of art and antiques. Halloween is also her favorite time of year. It's why I call her when I need props for my photos. Art directors and photographers be advised: you can rent her pieces for your projects too.
What is your favorite part of Halloween? Is it the candy, trick-or-treating, costumes, decorations, or simply the fun of it all? Give me the food and beverages and I'm a happy gal. Have fun with your celebration this year and be sure to include something spicy like Devil's Wing Sauce. Scroll down to find links to more Halloween recipes too.

Devil's Wing Sauce
Yield:
Makes about 1½ cups
Ingredients
¼ cup ketchup
2 tablespoons cider vinegar
2 tablespoons fresh lemon juice
2 tablespoons hot sauce (Texas Pete recommended)
1 tablespoon chili pepper paste
½ cup unsalted butter, melted
Instructions
Place ketchup, vinegar, lemon juce, hot sauce and chili pepper paste in a blender. Blend on high speed until combined.
Reduce speed to low and slowly add butter. Increase speed to high and blend for 30 seconds.
Serve with chicken wings, chicken tenders, or shrimp. You can either have it as a dipping sauce or pour it over and toss to coat.
Halloween is approaching.
 It's time to plan and make the nibbles and sips for the evening. I have some very talented blogger friends I've joined with to share recipes to make your celebration a fun and tasty one. It's a marvelous Halloween Food Party for sure! Special thanks to Jen at 
Jen's Favorite Cookies
 for hosting this event. Check out what we have to share: