A Festivus for the rest of us! Have you heard of Festivus? Here's some info in case you are not familiar with it. Festivus is a holiday celebration made up by Daniel O'Keefe. His son was a writer for Seinfeld, a popular TV sitcom. An episode called "The Strike" aired on December 18, 1997 featuring Festivus and then millions of people learned about the celebration. It is also an excuse for some food bloggers to have fun, share some recipes, and host a giveaway. Each of us chose a recipe based on a food featured in one of Seinfeld's episodes. I chose the episode "The Non-Fat Yogurt" and made Eggnog Frozen Yogurt.
Festivus has four basic parts:
The Festivus Pole – made out of aluminum and not decorated
The Airing of Grievances – stating your grievances to family and friends
The Festivus Dinner – that's where food comes in
The Feats of Strength – a wrestling match or loosely translated to any feat of strength
About my eggnog frozen yogurt and the episode: The main story line in the episode is about how this new non-fat frozen yogurt is so good. However, people seem to be gaining weight even though it is supposedly non-fat. Some of the characters decide to have it tested to find out if it really is non-fat. I decided to put my own spin on it and create the most fat laden, decadent one for the season. It is smooth, creamy, with the flavor of eggnog and a little tang from Greek yogurt. It is a total splurge (See my vanilla frozen yogurt for a lighter option).
The airing of grievances can be fun. You take a lighthearted approach to getting annoyances out of your system. I'll share a couple of them. I have a grievance with people who can't maintain their lane because of using their cellphone when driving. I have a problem with those people. They are endangering lives. I also have a grievance with people who smack and pop their gum. It's simply rude.
My feat of strength? It is trying not to eat all the eggnog frozen yogurt in two days. Did I mention it was a total splurge? A small cup every now and then is fine. Only thing is that it is so good I keep going back to the container with a spoon. It keeps calling me relentlessly and I have to wrestle with myself and summon all kinds of strength to restrain from indulging.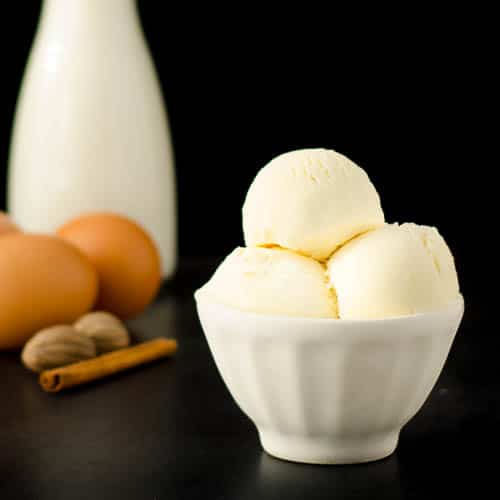 Ready for more Festivus fun? Scroll down to see the recipes being shared by the talented bloggers participating in this virtual celebration. There is also a giveaway for items related to some of the recipes along with a Seinfeld Complete Season Boxed DVD set. Big thanks to King Arthur Flour, Lobster.com, Wilton, and OXO for providing giveaway items. And in case you are wondering, I celebrate Christmas traditionally at my home. I wish you and your family a fabulous holiday season. Cheers!
1 1/2 cups whole milk plain Greek yogurt (full fat)
1 1/3 cups eggnog (regular, not low or non-fat)
1 cup sugar
1 teaspoon vanilla
1/4 teaspoon nutmeg
Whisk together all the ingredients in a bowl until smooth. Cover and refrigerate overnight.
Pour chilled mixture into an ice cream maker and freeze according to the manufacturer's instructions.
Transfer the frozen yogurt to a freezer safe container. Freeze for at least one hour.
Notes
*Stated time does not include overnight chilling time.
http://magnoliadays.com/2013/eggnog-frozen-yogurt/
Copyright Magnolia Days - http://magnoliadays.com/
Here's more Festivus fun! First there are the great recipes we are sharing for the event along with the Seinfeld episode they are inspired from:
Then there is the big giveaway. We are giving away one Seinfeld Complete Season DVD Box Set, two 1.5 lb live lobsters from Lobster.com, one 10-piece Kenmore nonstick cookware set, one King Arthur Flour Baking Set, one Wilton Bake Pan Set, one OXO Salad Kit, one OXO Baking Set, one Soup Maker cookbook, and one Pie Making cookbook set. There will be one winner per prize picked by random draw and open to United States addresses only. There is a mandatory entry of leaving one of your grievances in the comments below. Follow the Rafflecopter prompts for optional entries. Good luck!
Disclosure: Various brands and bloggers are providing the items for the giveaway. I did not receive any of the items and was under no obligation to give them a review.
You may also like...
Subscribe to Magnolia Days by Email