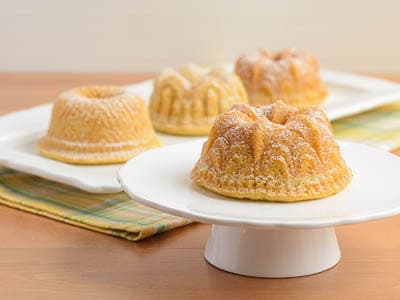 It's time for a little something lighter. At least lighter in flavor. The holidays were filled with chocolate, caramel, and plenty of heavy holiday foods. Citrus to the rescue! What a fresh and flavorful way to start the new year. I celebrated New Year's Eve with with these citrus cocktail mini bundt cakes. I had a few left over and it was the first dessert I enjoyed in 2013. It won't be the last time either.
January #BundtAMonth is all about citrus. The first thing I thought of was my citrus cocktail. I made the drink last summer when it was blazing hot outside. I wanted something cool and refreshing. The blend of four citrus juices gives it a nice sweet/tart combination. It is balanced and easy to sip on either with out without the added vodka. I thought it would be wonderful in a cake. I quickly discovered it sure is.
I only have one mini bundt pan. The batter is enough for a full-sized bundt. I wound up making 6 mini bundts and 12 cupcakes. I dusted the mini bundts with powdered (confectioners) sugar because I wanted to bring out the pretty designs on them. I used the citrus glaze on the cupcakes. You know I can't pass up the opportunity to glaze or frost a cake or cupcake.
How about more citrus bundts? The #BundtAMonth group has a lot of great recipes to share. Click on the links to get all the, ahem, juicy details:
Which is your favorite citrus fruit? Grapefruit is mine. I remember when I thought it tasted like battery acid (way back in my youth). Now I could eat one or drink the juice every day. Or use it to make my citrus cocktail and these incredible mini bundt cakes.
Here's how you can be a part of Bundt-a-Month:
Simple rule: Use mandarin, orange, Citrus lime, yuzu, lemons, Key lime or ANYTHING citrus – and bake us a Bundt for Tangy January
Post it before January 31, 2013
Use the #BundtaMonth hashtag in your title. (For ex: title could read – #BundtaMonth: Lemon Surprise Bundt)
Add your entry to the Linky tool below
Link back to our announcement posts
Even more bundt fun! Follow Bundt-a-Month on Facebook where we feature all our gorgeous bundt cakes. Or head over to our Pinterest board for inspiration and choose from over 350 Bundt cake recipes.
Happy Baking!
Citrus Cocktail Mini Bundt Cakes
Yield:
Makes 12+ mini bundts - or - 6 mini bundts plus 12 cupcakes - or - 1 full-sized bundt cake
Ingredients
For the mini bundt cakes:
3 cups all-purpose flour
1 teaspoon baking soda
1 teaspoon salt
1 cup (2 sticks) unsalted butter, at room temperature
2 cups granulated sugar
6 eggs (large), at room temperature
2 tablespoons finely grated citrus zest
½ cup citrus cocktail mix, at room temperature
2 tablespoons citrus flavored vodka or liqueur
¾ cup low-fat plain yogurt, at room temperature
1 teaspoon pure vanilla extract
Powdered sugar or optional citrus glaze for topping
For the citrus glaze:
Instructions
Preheat the oven to 350 degrees F. Grease and flour two mini bundt cake pans - or - one mini bundt cake pan plus a 12-cup muffin pan (or line with cupcake liners) - or - one 12-cup bundt cake pan.
In a medium bowl, whisk together the flour, baking soda, and salt. Set aside.
In a large bowl, beat butter and sugar using an electric mixer on medium-high speed until light and fluffy, about 5 minutes. Add the eggs, one at a time, beating well after each addition. Add the citrus zest, citrus cocktail mix, and liqueur. Beat until combined. Add the flour mixture in three additions, alternatively with the yogurt in two additions, mixing on low speed until just combined. Do not over mix. Stir in the vanilla.
Fill mini-bundt pans and/or muffin pan ⅔ full with batter. Add all the batter to a 12-cup bundt pan (if using). Bake until a toothpick inserted in the center of the cake comes out clean, about 15 to 20 minutes for mini bundts or cupcakes or 1 hour for a full-sized bundt cake.
Cool mini bundts or cupcakes in the pan 5 minutes then remove them from the pan and cool on a wire rack. Cool a full-sized bundt cake in the pan for 15 minutes prior to removing the cake from the pan.
Dust cakes with confectioners sugar or drizzle with citrus glaze.
For the citrus glaze:
In a small bowl, stir in the citrus cocktail mix one tablespoon at a time until it has reached desired consistency.
Recipe adapted from one found on the Martha Stewart website.