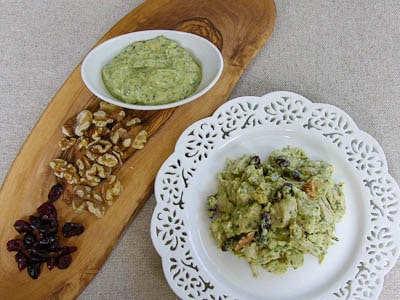 How often do you cook turkey? Is it something you only have at Thanksgiving or during the holidays? I cook it throughout the year. Turkey tenderloins, cutlets, necks (for stock), and the convenient freezer to oven whole ones by Butterball® or Jennie-O are made often. The great thing about cooking a whole turkey is the leftovers. I do love turkey sandwiches. I also make my turkey salad with pesto-mayo when I have my fresh pesto on hand.
Do you know pesto goes well with turkey? I discovered it a few years ago when I was looking for a quick meal. I searched through the pantry and fridge and decided to cook pasta, add turkey pieces, and stir in some pesto. Yummy! After that I looked for recipes with turkey and pesto. I ran across one by Emeril Lagasse on The Food Network website. The recipe inspired me to make turkey salad. I added walnuts for crunch and because I like cranberries and walnuts together.
I made this salad to use the pesto I had. I also had fresh walnuts on hand thanks to California Walnuts. I was excited when they arrived because I do enjoy walnuts very much. They are great for a snack and can be used in many recipes, both savory and sweet. My salad can be served as-is with crackers, on top of a bed of lettuce or salad greens, or in a sandwich. I use whole wheat bread and it makes a very filling and hearty sandwich.
What do you do with your turkey leftovers? Since I make it often I am always looking for new recipes. Something spicy would be nice…
Subscribe to Magnolia Days by Email
Turkey Salad With Pesto-Mayo
Ingredients
½ cup mayonnaise
1 tablespoon pesto
2 cups roasted turkey, chopped
¼ cup toasted walnuts, chopped
¼ cup dried cranberries
Salt and pepper to taste
Instructions
In a small bowl stir together the mayonnaise and pesto. In a medium bowl add the turkey, walnuts, cranberries, and pesto-mayo mixture. Stir to combine. Season with salt and pepper to taste. Serve with crackers, on top of lettuce, or in a sandwich. Refrigerate leftovers.
Disclaimer: I received the walnuts free of charge from California Walnuts. I was under no obligation to give a positive review. All opinions on this site are my own.