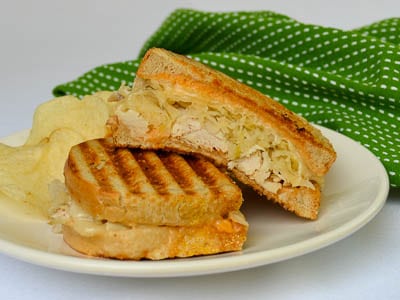 How often do you eat sandwiches? I eat one almost every day at lunch. Sometimes we have sandwich or sub night for dinner. It is an easy meal and the variations are endless. My usual lunch sandwich is deli ham and turkey with lots of toppings on wheat bread. I break up that routine when I have roasted a turkey and will make a turkey reuben panini.
Hot sandwiches or paninis are great in cold weather. I use my panini maker
more in the cooler seasons. It's nice to eat a hot, roasty, toasty, sandwich on a winter day. Since Thanksgiving is coming up, you might find yourself with leftover turkey. Put it on rye bread, top it with sauerkraut, cheese, and thousand island dressing, and grill it. It is so good!
Some folks like Russian dressing on their reuben. I do too. I will use either it or thousand island. I hear spicy mustard works too although I have not tried it yet. I relate spicy mustard to pastrami.
Are you preparing for the holidays? I can't believe they are almost here. So much to do in the coming months. Time to fuel up and get ready with a turkey reuben panini.
Turkey Reuben Panini
Ingredients
Rye bread slices
Thousand Island or Russian dressing
Roasted turkey slices
Sauerkraut
Havarti or Swiss cheese slices
Olive oil spray
Instructions
Heat the panini maker.
Spread dressing on one side of two slices of rye bread. On one slice add a layer of turkey. Squeeze the liquid from the sauerkraut and place on top of turkey. Place a slice of cheese on top. Cover with the other slice of bread with the dressing on the inside. Spray the outside with the olive oil spray.
Place the sandwich in the panini maker and lower the top down. Grill for about 5 minutes, until toasted. Remove panini from the grill, slice in half, and enjoy.
Disclaimer: This post contains affiliate links.