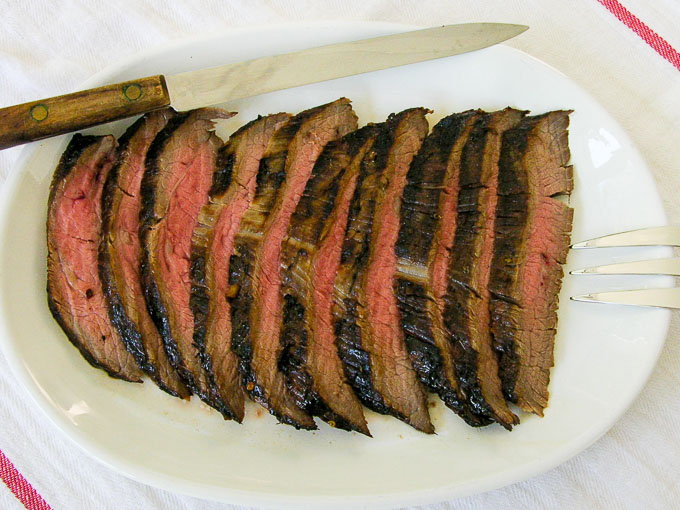 Grilling season has arrived! Actually, I grill most all year long. I have a very nice stainless steel 5-burner grill on the deck by my kitchen. The winters here are mild and it rarely snows so I can use it almost any time. I very much enjoy cooking on the grill. The flavor is outstanding and there is less mess in the kitchen. Steaks are my number one choice.
My grill has spoiled me. It is so easy to cook with. I can turn it on and check the temperature with the gauge on the lid. I know it so well I can cook by setting and time. We had some friends over for steaks a while back. One followed me to the grill and said he wanted to watch what I did because I grill so well. Easy. Steaks on, set the timer, flip steaks, set the timer, remove steaks. It probably did not help him much but that is my method.
The key is to use and learn your grill. Practice often! A great recipe to try is this ginger marinated flank steak. I found the original recipe in Southern Living back in 2005. I clipped it from the magazine and added it to my recipe book. I searched and located it on My Recipes website. I adapted it to use fresh grated ginger and my method for cooking.

Ginger Marinated Flank Steak
Ingredients
¼ cup vegetable or canola oil
¼ cup soy sauce
2 tablespoons brown sugar
2 tablespoons fresh lime juice
1 tablespoon fresh grated ginger
1 teaspoon crushed red pepper flakes
2 garlic gloves, chopped
1 beef flank steak (1 to 2 pounds)
Instructions
In a large zip-top plastic bag, combine oil, soy sauce, brown sugar, lime juice, ginger, red pepper flakes, and garlic. Stir to combine ingredients. Add flank steak to the marinade. Seal bag and place in refrigerator to marinate at least 8 hours.
Heat the grill to 450 to 500 degrees F. Remove steak from the marinade and place on the grill and cover with grill lid. Lower heat on the grill to about 400 degrees F. Grill approximately 4 to 5 minutes per side (for medium-rare) or to preferred doneness. Remove steak from grill and let stand 10 minutes.
Cut steak at an angle across the grain into thin slices. Serve and enjoy.
What food do you like to grill?
There are so many that benefit from cooking over an open flame. The flavor worth is alone. Keeping your kitchen cool in the hot summer is another benefit. Besides, hanging outside and smelling the steaks cooking is a sheer pleasure. Open a bottle of wine or grab an ice cold beer and let the grilling begin!