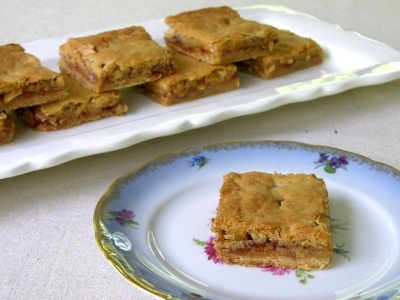 Friends and neighbors – what would we do without them? I do not know. They add so much to my life. I am fortunate to have great friends and live in a community filled with wonderful neighbors. One of them stands above many because she is always genuinely kind and has never spoken poorly of anyone. Mitzi truly has a sweet soul. I was supposed to meet her for lunch a while back but had to cancel. She left a gift bag by my front door filled with goodies for me and my hounds, especially Tiger.
One thing in the gift bag was a magazine. It was a special edition from Victora Classics called Teatime Bliss
. I read it from cover to cover and back again. There are so many great recipes in it. The one that caught my eye the most was Brandied Apricot Bars. I wanted to make it as soon as I could – and so I did.
The bars are so moist. They could be called gooey apricot bars. You might want to cut them in smaller squares or rectangles because they are quite rich. The recipe is adapted from what is printed in the magazine. I added more preserves and brandy. I altered the method to reflect how I made it and because they left out a step. (Oops, someone in the magazine's proof reading department missed something). If you really like apricot recipes then be sure to take a look at my Apricot Nut Cake.
Reading the magazine made me want to host an afternoon tea. I am adding it to my to-do list. It would be nice to share a lovely afternoon with my friends and neighbors. Perhaps one day soon…
Subscribe to Magnolia Days by Email
Brandied Apricot Bars
Ingredients
3½ cups all-purpose flour
1 teaspoon salt
¼ teaspoon ground ginger
1½ cups unsalted butter, at room temperature
1½ cups firmly packed light brown sugar
2 teaspoons vanilla
1 jar (18 ounce) apricot preserves
1½ teaspoons baking powder
⅔ cup sugar
2 teaspoons brandy
3 large eggs
½ cup sliced almonds, toasted
½ cup shredded coconut, toasted
Instructions
Preheat the oven to 350 degrees F. Grease 15 X 10 X 1-inch jelly roll pan.
In a medium bowl, sift together 2 cups flour, ½ teaspoon salt, and ginger.
In a large bowl, beat together ¾ cup butter, ¾ cup brown sugar, and 1 teaspoon vanilla on medium speed until light and fluffy. Reduce speed to low and add flour mixture and beat until mixture is combined and crumbly.
Press dough into bottom of prepared pan and bake for 20 minutes, until light golden brown. Cool on a wire rack for 5 minutes. Spread preserves over warm crust and cool completely.
In a medium bowl, combine remaining 1½ cups flour, baking powder, and ½ teaspoon salt.
In a large bowl, beat together sugar, remaining ¾ cup brown sugar, remaining ¾ cup butter, 1 teaspoon vanilla, and brandy on medium speed until light and fluffy. Add eggs one at a time beating well after each addition. Reduce speed to low and add flour mixture and beat until combined. Stir in almonds and coconut.
Spread mixture evenly over cooled crust. Bake for 30 minutes or until done when tested with a cake tester. Cool completely on a wire rack. Cut into bars to serve.