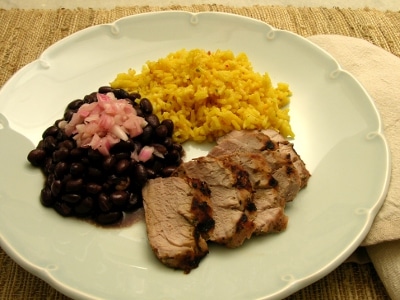 Confession: Not everything I cook is totally homemade. There are some meals I put together using convenience foods. Why? Several reasons and time is one of the main ones. Some busy days do not allow for a lot of time to be spent in the kitchen. I had one of those busy days recently and made this simple Cuban meal. As I was cooking, I thought about how the question "What do you cook for a quick everyday meal?" comes up frequently on twitter and facebook. I think there are many people who want a variety of good, quick dinners they can make for their family after a hectic day. That is why I am sharing an easy weeknight menu.
This simple Cuban meal is one with few ingredients. It utilizes a marinade, packaged rice, and canned beans found at a regular grocery store. So simple, a recipe is not needed (but I'll include one for reference). The meal consists of mojo criollo marinated pork tenderloins, black beans topped with red wine marinated shallots, and yellow rice. Serve it with a bread such as Cuban, French, or dinner rolls and dinner is complete. Well, and perhaps some wine to go with it too.
Here is a shopping list:
Pork tenderloins
Bottle of Mojo Criollo marinade
Canned black beans
Package of yellow rice
Shallots (or you can use red onion)
Red Wine Vinegar
Bread – Cuban, French, or dinner rolls
There are not many steps to cook the meal. Remember to get the pork marinating in the morning. The rest is done later. When it is finished you can enjoy a tasty Cuban meal with your family. That is the important part anyway. Sitting down and having a relaxed dinner and conversation with loved ones is what counts.
Do you use convenience foods? Which ones are staples in your pantry or refrigerator? Canned beans, granola bars, mayonnaise, and jelly are some of the foods I purchase regularly instead of making homemade. They are on my list of things to make though. Stay tuned…
PS. Have you subscribed to my blog?  Subscribe to Magnolia Days by Email
A Simple Cuban Meal
Ingredients
Pork tenderloins
Bottle of mojo criollo marinade
Canned black beans
Package of yellow rice
Shallots (or red onion)
Red wine vinegar
Bread - Cuban, French, or dinner rolls
Instructions
In a container with a lid or zip-top bag, pour mojo marinade over the pork. Cover or seal and let marinate in the refrigerator for at least 4 hours. Take out of refrigerator 1 hour prior to cooking to get pork to room temperature. Grill or roast tenderloins until internal temperature is 145 degrees F. Loosely cover and let sit for 10 to 15 minutes. Slice and serve.
Chop shallots (or onion) and place in a small bowl. Pour red wine vinegar to cover the shallots. Let marinate for at least an hour. Serve as a condiment to go on top of black beans.
Heat black beans in a saucepan or in a bowl in the microwave.
Cook yellow rice according to package directions.
Warm the bread for a few minutes in the oven or according to package instructions.
Serve it all up and enjoy!